hardtail29er
Member since May 22, 2012

Male / 27
San Rafael , California
I like to go fast
Block user
Recent

Dec 2, 2021 at 10:46
Dec 2, 2021

Selling
Dec 2, 2021 at 10:45
Dec 2, 2021

Jul 28, 2020 at 7:38
Jul 28, 2020

Selling
Jul 28, 2020 at 7:37
Jul 28, 2020
$1800 USD
I am selling this V10 because it is too small for me. I ended up getting a new downhill bike and am looking to sell this one. The bike is in good condition and I will attach both saint brakes when I sell the bike. DM me with any questions or offers.

Jun 21, 2018 at 10:58
Jun 21, 2018

Selling
Jun 21, 2018 at 10:57
Jun 21, 2018
$1000 USD
Specs: Fork: 2013 boxxer RC Shock: Brand New 2015 Vivid Air Wheels: Sun Ringle ADD Pro Cranks: Shimano Zee Derailer: 2013 XTR Shadow Plus with saint short cage Shifter: XTR Rapid fire Brakes: Brand New XT Bars: Chromag Fubar Stem: Deity Locust Pedals: Ti Point 1 Message me for more details and offers.

Selling
Jun 21, 2018 at 10:53
Jun 21, 2018

Nov 28, 2015 at 19:53
Nov 28, 2015

Selling
Nov 28, 2015 at 19:43
Nov 28, 2015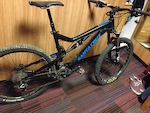 $2150 USD
I am selling my santa cruz bronson after two years of owning it we are parting ways. I rode the bike mainly last year and for the last 7 months i have had the bike sitting around because i got a new bike. The bike is a base build but has an added seat dropper that has been internal routed. The main issue with the bike is that the seat dropper needs to be rebuilt because air leaked to the other side of the seals. Its a standard rebuild so i have lowered the price to factor in the cost of the repair. The bike is a mix of slx and XT parts. The size is XL and is a good fit for people around six foot. i got the bike when i was about 5 11 and grew in to it at 6 1. Santa cruz in general runs small for bikes and with the seat dropper it can fit a large range of riders. To add to the deal i can also throw in an extra XT rear derailed and carbon bars. message me if you have any questions. i can show the bike in Santa Barbara or san francisco over the next month.

Jul 14, 2015 at 20:23
Jul 14, 2015
Load more...