j-wasilenko
Member since Dec 13, 2007

Male / 37
Nelson , British Columbia
Block user
Recent

Apr 21, 2021 at 17:54
Apr 21, 2021

Feb 8, 2018 at 9:47
Feb 8, 2018

Feb 8, 2018 at 9:46
Feb 8, 2018
The New YT Capra - Everything You Need to Know
@Trailstunter: e-13 Tires, I prefer Minions, the e-13 cassette doesn't shift as nice as a Shimano setup, or eagle, the rear hub has come loose multiple times. PressFit, after a month of riding in the wet starts to creak and groan. Just found the e-13 stuff takes a lot more time to maintain to keep it running good.

Feb 8, 2018 at 4:17
Feb 8, 2018
The New YT Capra - Everything You Need to Know
My Capra Pro CF was 4500 Euro when it was new, now its 5200 euro. 700 euro more for mostly the same spec and all the same problems as last years (Press fit, no bottle cage, e-13 stuff really isn't as nice as the equivalent stuff from other brands) Think I'll just keep my 2017 for now and wait for something else. The longer reach would be nice though.

Jan 28, 2018 at 1:55
Jan 28, 2018

Sep 11, 2017 at 22:17
Sep 11, 2017

Selling
Sep 14, 2012 at 11:59
Sep 14, 2012

Selling
Mar 2, 2012 at 19:07
Mar 2, 2012

Selling
Oct 18, 2011 at 20:45
Oct 18, 2011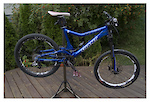 $1200 CAD
I bought this bike brand new in Spring 2008, it was left over from Giant and was never sold. I bought a new bike this year and it hasn't been ridden once in 2011, only 3 seasons of riding on this bike. The forks and the rear shock have been rebuilt and haven't been ridden since being rebuilt by Manitou, they feel like new. Frame has the normal wear and tear/scratches of riding and the rims are flaking White paint that I had used car paint on. The rear rim has a flat spot but is true side to side with a few dents. 2005 Giant Team DH Size Large Manitou Dorado Carbon / Manitou 6-Way Swinger Rear shock Sram X9 Shifter / Derailleur / Cassette Shimano XT Brakes / Hope Rotors Race Face Diablous Cranks NRG Flat Pedals Sun/Ringle Hubs Mavic 729 Rims Maxxis High Roller Front Tire / Tioga Rear Tire Cromag Seat / Easton EA50 Seat Truvative BooBar / Oury Odi Lockon Grips

Selling
May 4, 2011 at 20:09
May 4, 2011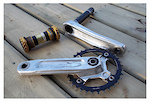 $80 CAD
Race Face Diablous 165mm cranks (Silver), with Team DH bottom bracket (Gold cups). 83mm bottom bracket. 34t Blackspire DH chainring. Some scratches on the cranks. BB used on DH bike for one season along with chainring. Buyer pays shipping or local pickup. Please e-mail me instead of calling, thanks.
Load more...