jenlee2008
Member since Jan 3, 2016

Male / 40
Colchester , United Kingdom
all guts...no glory!!
Block user
Recent

Apr 24, 2020 at 9:20
Apr 24, 2020

Feb 18, 2020 at 16:30
Feb 18, 2020
Intend Release "New Age" Suspension Line
Apart from the obvious and apparent lack of stanchion guards.......they are butt ugly!! The lefty is an ugly fork but this takes the gold medal by far. Think I'd rather go rigid than fit one of them things!!

Oct 29, 2019 at 15:38
Oct 29, 2019

Oct 8, 2018 at 5:03
Oct 8, 2018

Selling
Oct 8, 2018 at 4:58
Oct 8, 2018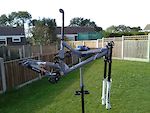 $250 GBP
OPEN TO REALISTIC OFFERS AND MAY SPLIT FRAME AND FORKS. Reluctant sale of my commy dh mini supreme in large (18"),marz 888 rcv super t and fox van r set up. The frame was powder coated earlier in 2018 and modified v4 decals used and new enduro bearings all round. Still in next to flawless condition as barely riden since rebuild. Included in the sale are the frame, fox van r rear shock, Shimano saint smcd50 chain guide, raceface x-type bb, Easton haven 31.8mm direct mount stem, marzocchi 888 rcv super t forks (180mm), original commy split seat post with one seat post clamp, head tube slackeriser 0/-1 degree currently set at slackest and simply turns 180* for neutral setting. 2 sets of drop outs. 135x12mm Inc MAXLE are fitted, 9mm qr dropouts cable tied to frame in a bag. There is a 700lb spring fitted to the shock and I have a 450lb to go with it. The fork is an ultra rare 180mm dual air super t rcv in very good condition with spotless stanchions. Recent oil change. These alone are worth £175+. Any service centre who service marzocchi can service these. The rear shock works perfectly and looks brand new. The frame will fit anyone from 5'10" to 6'2" easily thanks to the split seat post design. Or switch it out for a single post if you cut it right. I'm very sad to let this go as it's an awesome machine for its year (ask the Atherton's), it rails berms and is very precise and compliant on the trail and jumps well. I've moved into agro hardtails due to getting no younger. I very much doubt you will find a cleaner and more cared for example....anywhere. I would prefer collection but will ship in u.k only once I get a box and price. The forks will be shipped inside the bike box inside another box for protection. Any questions, please ask but not stupid, insulting offers. The price is firm and reflects the condition and is very fair and low for what your getting. Postage and PayPal fees to be paid by the buyer. MAY SPLIT FRAME AND FORKS.... OFFER DEPENDENT. TRY ME. STUPID OFFERS WILL BE IGNORED. THIS IS CHEAP ALREADY.

Sep 21, 2018 at 5:36
Sep 21, 2018

Jan 30, 2018 at 6:20
Jan 30, 2018

Selling
Dec 1, 2017 at 23:06
Dec 1, 2017

Selling
Oct 27, 2017 at 11:55
Oct 27, 2017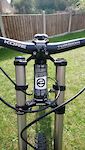 $200 GBP
Hi, looking to swap out some black rs boxxer rc for some good condition 140/150mm single crowns. air and 20mm axle prefered. my boxxers are in fantastic condition with flawless, plush travel, spotless stanchions with very recent new o.e decals, serviced by tf tuned late 2016 and only ridden a few times this year. firm and x-firm springs included, x-firm currently installed, just mini serviced by myself with fresh oil and new seals.these forks look a lot newer than the year suggests. 180mm steerer tube with star nut installed. i have owned them from new so i know the history. everything works as it should 100%. looking for good condition single crown 140/150mm with 20mm axle and clean stanchions with a straight 1 1/8 steerer thats at least 190mm. reason for swaps is my dh days are over and moving into park/enduro fun times. can supply more pictures on request. this is for the forks and 20mm maxle only, no other parts in the pictures are included. will sell for right price. looking at 200 plus postage. fee's to be covered by buyer unless done via gift etc with paypal. postage will be parcelforce tracked and i will provide tracking number etc. hit me up with what you have. thanks.

Oct 20, 2017 at 21:40
Oct 20, 2017
Pinkbike Poll: What If....?
@Scotj009: and a total piece of crap!! very cramped and sit up and beg positioning. good luck on the trails with that one.
Load more...