knarrr
Member since Jun 5, 2011

O+
Male / 36
Durango , Colorado
Block user
Recent

Mar 8, 2023 at 15:14
Mar 8, 2023

Louisiana fast
29.0 km - 02:00 - 2 achievements

Mar 1, 2023 at 14:14
Mar 1, 2023

Mar 1, 2023 at 14:13
Mar 1, 2023

Mar 1, 2023 at 14:10
Mar 1, 2023
Industry Nine Releases New iRiX Headsets
That's the exact opposite of my experience. I've installed thousands of headsets, and maintain my own frequently. A long-travel single crown fork and proper terrain puts a ton of stress on the headset, and I frequently destroyed upper bearings until replacing the standard fair black oxide bearings with stainless and better sealing from the headset cover/races.

Mar 1, 2023 at 10:25
Mar 1, 2023

Feb 19, 2023 at 7:27
Feb 19, 2023
First Look: Hope's New Pro 5 Hubs
@danstonQ: biggest issue with DT is that the end caps fall off too easily. seen more than one cassette and star ratchet escape into the woods fixing a flat

Feb 16, 2023 at 19:48
Feb 16, 2023

Selling
Feb 16, 2023 at 19:47
Feb 16, 2023
$2900 USD
Fast and fun titanium flat bar gravel bike. Built up with Shimano XT 11 speed drivetrain and brakes, it has the range and control to get you both up and down more rugged terrain. Has been mounted with a frame bag and shows some minor wear from rub. Drivetrain still has plenty of life in it, but is roughly 50% worn. Left grip has some chew marks on it but works. No scratches or dents, and will ship fully tuned and ready to ride. PayPal or Venmo preferred, buyer pays shipping. Frame: Bearclaw Thunderhawk Ti 54cm Fork: BBCo Ramhorn carbon Cranks: SRAM Force carbon Drivetrain: Shimano XT M8000 11spd Brakes: Shimano XT M8000 Wheels: Shimano XTR hubs to Velocity rims Stem: Paul Boxcar Bars: Devinci V1 Seatpost: Thompson Elite Saddle: Brooks

Selling
Feb 16, 2023 at 19:37
Feb 16, 2023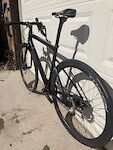 $2900 USD
This beautiful Tarmac SL6 has been upgraded with a new 2x11 Shimano Dura Ace drivetrain groupset, as well as a Token carbon wheelset. It has a neat purple paintjob that has a sparkly red ombre when the sun hits it. I did my best to capture that affect in the photos. Bike is in excellent condition with no scratches, and will shipped fully tuned and ready to ride. Weighed in at 17.8 lbs including saddle bag and pedals, both of which are not included, so mid to low 17 lbs range. PayPal or Venmo preferred, buyer pays shipping. Frame/Fork: Specialized Tarmac SL6 54cm Stem: S-Works Groupset: Shimano Dura-Ace R9100 11spd / 52-38t x 11-30t cassette Wheelset: Token C38D Prime carbon Tires: Continental GP 5000 700x28 Saddle: Specialized Power w/ Mimic
Load more...