mattbham
Member since Mar 3, 2018

Male / 40
Bellingham , Washington
Block user
Recent

Selling
May 3, 2020 at 16:20
May 3, 2020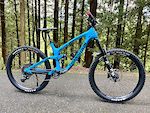 $3500 USD
Selling my wife's Patrol. Ridden less than 10 times and she doesn't really know how to ride so it wasn't abused at all. It is in excellent condition, tires still have the vent spews from the molds on them. It is the GX build with fox suspension. Only change from stock is Chromag grips and I have the original grips if you prefer them. I am getting a new Sentinel and we traded bikes recently on a ride and she said she preferred the Sentinel over the Patrol so I am giving her my old Sentinel.

Apr 30, 2020 at 11:45
Apr 30, 2020
Privateer Launch $3,075 161 Enduro Race Bike
Did someone convert the pricing incorrectly? When I convert 2989 pounds to dollars it is 3,764.69 dollars. Maybe it is cheaper in the US because they don't need to charge VAT?

Apr 18, 2020 at 18:01
Apr 18, 2020

Afternoon Ride
16.2 km - 01:16 - 2 achievements

Selling
Mar 22, 2020 at 22:35
Mar 22, 2020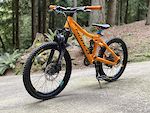 $1000 USD
Norco Fluid 2.2 full suspension kids bike. Our youngest son got this bike last season in Whistler and it has been awesome. Only selling because he is moving to 24" wheels.
Load more...