mattjolley
Member since Jun 21, 2014

Male
Philadelphia , Pennsylvania
Block user
Recent

Selling
Mar 18, 2023 at 9:49
Mar 18, 2023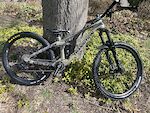 $4000 USD
2021 XS Transition Scout Carbon. Awesome first 27.5 for younger rider or smaller female. Low standover. Great deal on an AWESOME bike ! Carbon frame with cosmetic paint chips, but no gauges or issues. Wrapped with camo in a few places according to my 10 year olds wishes! Has now outgrown. Currently setup with 150 front travel, 140 travel rear. Frame: 2021 Scout Carbon XS Fork: 2022 RS Pike Ultimate 150mm. Stanchions clean, few scratches on lowers. Shock: 2021 Super Deluxe Ultimate 205 x 57.5 mm (can also put on original 2020 Fox X2 Performance Elite 205 x 57.5 mm if prefer). Drivetrain: XT 8100 with Trailcraft 152.5mm cranks. Drivetrain in near new shape, few scratches on derailleur, cassette barely broken in. Brakes: SRAM Code RSC with 180mm Centerline rotors Bars: Yeti Carbon 710mm Grips: Sensus Lite Stem: Deity Copperhead 35mm Post: One Up 120mm dropper with One Up remote Seat: Deity Wheels: I9 Enduro S 1/1 (new) Tires: Maxxis 2.5 Minion DHF EXO 3C front/ Maxxis Rekon 2.4 EXO 3C rear setup tubeless (new) Can included Super Deluxe and 2020 Fox X2 Performance Elite (no issues at all with this one, just serviced by Fox, not ridden since) for $350 more. Awesome bike to transition to 27.5. Or can run 26 inch wheels with the 152.5mm cranks no problem (we did that for 9 months before going to 27.5). Local Pickup or $4100 shipped in continental US.

Mar 18, 2023 at 9:36
Mar 18, 2023

Selling
Mar 18, 2023 at 9:34
Mar 18, 2023

Jan 8, 2023 at 10:22
Jan 8, 2023

Selling
Jan 8, 2023 at 10:13
Jan 8, 2023
$450 USD
Custom DT 240 hub/Stans Crest 24 inch wheelset. Awesome light wheelset for non-boost 24 inch frame or kids DJ. 28 spoke, non-boost DT 240 hubs. Current setup for a a DJ with 10-135 axle, but will include 12/142 endcaps for rear. Includes Table Top Tires. Hadley though bolt 10mm-135mm rear axle can be included for $30 more. Ship in CONUS only.

Jan 1, 2023 at 8:46
Jan 1, 2023

Selling
Jan 1, 2023 at 8:45
Jan 1, 2023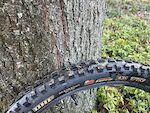 $250 USD
2019 wheelset off Juliana Strega. Ridden lightly by 100 lb rider. TRS+ 30mm internal rims. 54t star ratchet in rear hub. Shimano 11 speed freehub in good condition with minimal notching. Hubs smooth, rims true. Included DHF/DHR tires setup tubeless. $250 local or $300 shipped in CONUS

Dec 3, 2022 at 10:48
Dec 3, 2022

Nov 26, 2022 at 8:02
Nov 26, 2022

Selling
Nov 26, 2022 at 7:56
Nov 26, 2022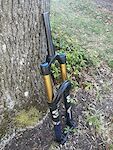 $600 USD
2022 Fox Factory 38 160mm 44mm offset. 7 3/8 inch steerer (off XL frame). In near perfect condition, just went to 170mm and had another fork. Tiny (can barely see, and not feel) nick to clear coat on Kashima on left stanchions. Does not effect function. Lowers near perfect.
Load more...