mkubica
Member since Mar 31, 2009

Male / 39
Barrie , Ontario
I just need to crank some tunes and hit the trails, rain, shine, snow or mud.
Block user
Recent

Dec 8, 2015 at 6:04
Dec 8, 2015

Selling
Dec 8, 2015 at 6:01
Dec 8, 2015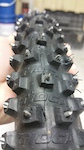 $175 CAD
These are not the wimpy style studs you can buy from the stores! I hand crafted these tires recently out of a set of 26" x 2.1" Tioga Factory DH Pro tires. They are lightly used and the pics are current (taken Dec 8, 2015) They will fit basically any 26" bike (I used them on my Giant Glory) They are unreal on ice or snow. I tested them on a freshly flooded skating rink and I've still never experienced grip like these tires offer. The "Front" Tire has 300 Studs and the "Rear" has 350 studs. If you really want to extend your season or be able to hit your local snowboard park as I have done, you need these tires. I have installed a layer of rubber that goes between the heads of the studs and your inner tube (I will include two brand new, never been flat 26" presta valve inner tubes as well). These things are ready to chomp anything winter can throw at them. I will ship globally at buyer's expense. Best way for contact is via text but any form of contact works 705-725-2125

Oct 6, 2014 at 6:45
Oct 6, 2014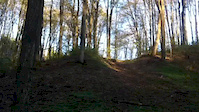 actually it didn't break but it's permanently damaged. I went to Physio for quite some time and it's not getting better. My Leatt pushed into it so hard that it damaged the big chunk of cartilidge that holds my ribs in line. They pop in and out all the time now and make really loud pops when they do so. But, whatev, that's the way she goes, I still ride just as hard and in hindsight if I didn't have the leatt on, I would have benn much worse off.

Added 1 video
Oct 3, 2014 at 7:59
Oct 3, 2014

Sep 29, 2014 at 8:53
Sep 29, 2014

Aug 21, 2014 at 10:31
Aug 21, 2014

Selling
Mar 21, 2014 at 8:51
Mar 21, 2014

Aug 20, 2012 at 4:06
Aug 20, 2012

Jul 25, 2012 at 8:03
Jul 25, 2012

Mar 12, 2012 at 18:37
Mar 12, 2012
Load more...