mtbkilla
Member since Apr 8, 2010

Male / 22
Calgary , Alberta
Pussy
Block user
Recent

May 4, 2015 at 18:51
May 4, 2015

Selling
May 4, 2015 at 18:50
May 4, 2015

Apr 15, 2015 at 1:48
Apr 15, 2015

Selling
Apr 15, 2015 at 1:37
Apr 15, 2015

Mar 21, 2014 at 1:37
Mar 21, 2014

Selling
Mar 6, 2014 at 0:28
Mar 6, 2014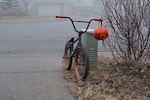 $300 CAD
The bike has a few custom parts like hoder bars,S&M enduro stem(red),S&M Tuffman chainring (red) and Feind pivitol seat (gray). The bikes is in good condition it just needs a new home. If you have anymore question feel free to text or pm me. Thanks guy have a good one!

Mar 5, 2014 at 23:53
Mar 5, 2014

Feb 16, 2014 at 12:43
Feb 16, 2014

Selling
Feb 11, 2014 at 23:04
Feb 11, 2014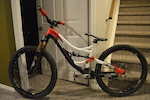 $1600 CAD
Hey guys so Right here we have a Specialized SX. Most of the bike components are both Loaded and Shimano saints. I spent over 4 grand on this bike and really sucks to see this beauty go but it needs a new home. Its currently single speeded and only has one rear brake but ill throw in a shimano saints front brake with a 8' disc and a shimano saints derailleur. The bike size is a long and is incredibly light . if you have anymore questions feel free to text me at anytime but do not call as i will not answer. Thanks David

Feb 11, 2014 at 22:52
Feb 11, 2014
Load more...