o00u
Member since Jan 16, 2013

Male / 35
Calgary , Alberta
Block user
Recent

Selling
Oct 10, 2020 at 15:37
Oct 10, 2020
$300 CAD
Rockshox Revelation 140mm The tapered steer tube is very long at 8.3inches and should fit any bike. Came off a 2014 Transition Covert. In great condition, stations are minty clean with no scratches or marks on them. I would clean the stations before every ride. Upgraded the fork to have tokens and will include the rest (1 installed 4 left in the pack). Some marks from riding and transportation, see pictures I tried to show them as much as I could. Axle has a very small chip out of where it tightens but is only cosmetic, still fully functional. Lowers/oil was serviced at the start of this season. Has a mudflap included but can remove if requested. Happy Halloween

Selling
Aug 12, 2020 at 21:16
Aug 12, 2020
$250 CAD
Selling a used We The People BMX bike. My friend got me to store this for him but he no longer will be coming back to the country. I don't know much about BMX so if you would like me to find anything out just let me know and I will look into it for you. Looks like a custom build to me, things like cane creek headset cup. Black in color, looks like spray paint. Rims and tires look newer, Has mount for the rear brake but not hooked up. In good shape other than the dent on the forks (see picture).

Jul 28, 2014 at 19:25
Jul 28, 2014

Selling
Jul 28, 2014 at 19:24
Jul 28, 2014
$60 CAD
I have a like new avid elixir one brake set. Both front and rear came off of the 2014 transition covert 29er extra-large so there should be no issue with hose length. In great condition with lots of pads left. Feel free to send me any question I check pinkbike frequently. $60 for both.

Selling
Jul 16, 2014 at 13:28
Jul 16, 2014

Selling
Jun 25, 2014 at 12:03
Jun 25, 2014

Selling
Jun 25, 2014 at 11:12
Jun 25, 2014
$25 CAD
These 661 knee/shin pad combo are in great condition and have only been worn twice. I'm 6'5 and they just don't fit my freakishly long and skinny legs quiet right, so I bought something else that fit better. Price is $35.

Apr 14, 2014 at 19:22
Apr 14, 2014

Selling
Oct 4, 2013 at 16:11
Oct 4, 2013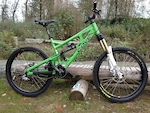 $1700 CAD
Cove STD size large!!! In great shape as you can tell by the pictures, only the wear and tear from transport, picture shows where it fell on an amp in transport :( . Was $6000 new. Price has been reduced. Fork: Rock shox totem Brakes: avid code Handle bar: Chromag Drive train: SRAM x9 Will discuss any trade for an all mountain/ enduro/ 29er bike that is XL. Will take or add money in the deal if need be.

Oct 4, 2013 at 16:01
Oct 4, 2013
Load more...