pell
Member since Aug 23, 2007

Ottawa , Ontario
Block user
Recent

Oct 8, 2018 at 13:16
Oct 8, 2018

Selling
Oct 8, 2018 at 7:31
Oct 8, 2018
$2900 CAD
Bought brand new in spring 2017. It has very low mileage ( basically this season as I had an injury last year couldn't ride much) , Has typical paint chips on rear triangle (see photos) but other than that is in excellent condition, Frame was protected with Bike Shield (missed that spot though!) Components are pretty much stock, as the full XT spec was great. To see full component spec, click on link below. https://www.giant-bicycles.com/ca/reign-advanced-1-2016 Throwing in Extra tires! Has stock tires Schwalbe Magic mary's and hans damp , and brand new Maxxis minion DH super tacks. Pedals included! selling it because I found it a bit large for me (i'm 5' 7") if you are over 5' 8" it would be perfect but an all around awesome bike for anything. Serious inquires only please. PM me for more info or questions! Cheers!

Nov 27, 2016 at 7:00
Nov 27, 2016

Nov 27, 2016 at 6:48
Nov 27, 2016

Nov 19, 2016 at 7:30
Nov 19, 2016

Selling
Nov 19, 2016 at 7:17
Nov 19, 2016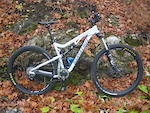 $2100 CAD
Medium 2013 Aluminum Santa Cruz Bronson (bought Nov. 2013) 3 seasons of XC riding R kit with a few upgrades : Shimano XT brakes Raceface Narrow wide 34 tooth chainring MRP ISCG 05 bash guard Chromag Fubar 30 " 40 mm Truvativ Holtzfeller Stem Race Face Half Nelson Grips X Fusion Hi lo Seat dropper Offset bushings installed in rear shock to make the head angle 66 degrees from 67 degrees to make it handle more like the newer Bronson (Easy to remove if you prefer the original 67 degree head angle) Will also throw in original Elixir 5 brakes (nearly new) , 67 degree bushings and CrankBros. Mallet 3 pedals (Straitline pedals in picture not included) . Heck if you are a size 9 , you can have a pair of Mavic Crossmax XL enduro race shoes too! Some normal scratches on the frame and on one of the fork lowers (see photo- doesn't affect the performance of the fork----Damn clipless pedals! ) open to moving a little on the price, but please, serious inquiries only. .Some chips in paint on downtube and on chain stays ..See close ups in photos. Thanks for looking! Email is a good way to reach me. Cheers, Buyer pays shipping , Pay by Paypal goods, or cash in person

Apr 13, 2015 at 7:59
Apr 13, 2015

Selling
Apr 13, 2015 at 7:53
Apr 13, 2015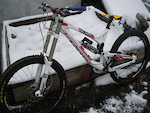 $1700 CAD
Medium 2012, Intense 951 Never raced, it hasn't seen much use since I bought it in Fall 2013, so I can't justify keeping it. I'm an older dude, and not really into DH anymore so if you are looking for a bike with super low mileage and lots of life this might be worth a look. Some scratches on frame and on small dent on the top side of the down tube (the bumper from the fork pressed the goodridge line into the frame ) Some small dents in the front wheel, But I'm also including another front wheel in perfect condition and a maxxis minion exo dh, and the steel spring, and a new white cable housing and the straitlines . Thanks for looking. Email is a great way to reach me. Cheers Buyer pays shipping , Pay by Paypal goods, or cash in person Highlights: Upgraded rear triangle Red Straitline pedals Hope Tech M4 brakes with Goodridge lines Renthal Fatbar Fox RC4- Nukeproof Titanium spring and the steel spring in the photo (both 450 lbs X 3.0) Boxxer r2c2 Sram XO rear Mech. Sunline Stem Spank 35 rear rim built Phat Moose cycles 2015 and laced to the Hope Pro 2 hub. front rim DT swiss F 550 rim on a Specialized hub extra tire 1 maxxis minion dh f exo

Selling
Apr 13, 2015 at 7:45
Apr 13, 2015
$2000 CAD
medium intense951

Selling
Feb 9, 2013 at 13:17
Feb 9, 2013
Load more...