pocketsandcollector
Member since Jul 10, 2020

Male
Sacramento , California
26" wheels, one inch for each remaining braincell
Block user
Recent

Aug 9, 2023 at 10:25
Aug 9, 2023

Selling
Jul 2, 2023 at 21:47
Jul 2, 2023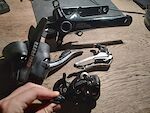 $80 USD
$90 SHIPPED IN THE LOWER 48 Partial SRAM Rival 10 speed road groupset, just missing brake calipers. Cranks are 170mm length with 110 BCD. Carbon levers. Derailleurs are in good condition, no excessive wear. Text or DM with questions

Selling
Jul 2, 2023 at 21:36
Jul 2, 2023

Selling
Jul 2, 2023 at 21:31
Jul 2, 2023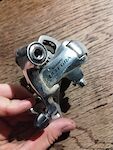 $20 USD
$25 SHIPPED IN THE LOWER 48 Shimano RD-6600 short cage 10 speed rear derailleur. Purging parts bin. Pulley teeth are in decent shape, bushings feel excellent. DM or text with questions, thanks

Selling
Jul 2, 2023 at 21:24
Jul 2, 2023
$50 USD
$60 SHIPPED IN THE LOWER 48 Shimano Deore XT CS-M8000 cassette, 11 speed, 11-40t. Purging parts bin. Very low miles. Text or DM with questions. Thanks

Selling
Jul 2, 2023 at 21:17
Jul 2, 2023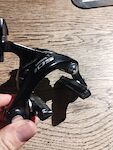 $20 USD
$25 SHIPPED IN THE LOWER 48 Shimano 105 BR-5800 rear caliper rim brake. Been sitting, don't need it. Pads are like new. DM or text with questions. Thanks

Selling
Jul 2, 2023 at 21:07
Jul 2, 2023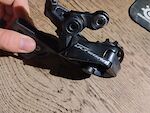 $50 USD
$55 SHIPPED IN THE LOWER 48 Shimano Ultegra RD-R8000 GS (11 speed) rear der. Long Cage model. Purging parts bin. Got it for a project, went with something else, don't need it. Used twice while the bike was being built. Like new. Text or DM with questions. Thanks

Selling
Jun 30, 2023 at 22:35
Jun 30, 2023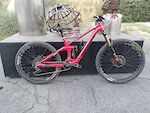 $3600 USD
Transition Patrol 2023 alloy in red and size large. Full coverage Ridewrap installed. Custom build, parts list below. Very meticulously maintained. Frame/chain/cables and housing have half a season on them. Brakes, saddle, headset have a few weeks. Everything else has a full season of riding on it. Tires are at 70-80%. Frame has not been registered for Transition's lifetime warranty yet. No, the X2 has not exploded. I have had zero issues with it since getting the frame in February. Fork had a 50hr service last month. I have a rebuild kit for the dropper. $500 off the list price if you don't want the Dominions. I love them dearly. One flat spot on rear wheel from October, so shallow I can't even get a photo of it. Have a spare rim I can include with purchase, or a spare Spank 350 rear wheel with literally one ride on it for an extra $200. Open to trades for a size large Kona Process X, Transition Spire, Privateer 161, Raaw Madonna, or Bashee Titan V3.2. I can add cash depending on the which bike and spec of course. PARTS 2023 Transition Patrol Alloy, size Large, custom build Fox Factory 38 160mm Fox Float X 205x60 Stans Flow S1 wheelset (1 ding on rear wheel) Hayes Dominion A4 brakes SRAM Centerline 200mm rotors Cane Creek 40 zs56/zs56 headset SRAM GX derailleur, shifter, 9-50t cassette Maxxis Assegai 2.5 front, Minion DHF 2.4 rear (EXO 3C, I weigh 140 and ride like a grandma so can get away with it) Raceface Aeffect 165mm crankset Raceface BB Oneup dropper V2 180mm Bontrager Elite dropper lever Anvl Swage 40mm stem Raceface Atlas 38mm rise bars cut to 800mm Chromag Lift saddle Chromag seatclamp Chromag Squarewave grips MRP chainguide PEDALS NOT INCLUDED I WILL SHIP TO THE CONTINENTAL 48 STATES AND CANADA. BUYER PAYS ALL SHIPPING AND PAYMENT PROCESSING FEES.

Selling
Jun 11, 2023 at 15:07
Jun 11, 2023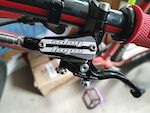 $200 USD
Hope Tech 3 V4 brakeset, with braided lines. Purchased October of 2022. Hope "easy bleed" kit is included with the brakeset. Fresh sintered pads were just installed. Lines are cut for a size large Transition patrol. Ran them for a while, thoroughly enjoyed them, but switching to TRPs for now. $215 shipped in the continental US. No trades. Thanks!

Selling
Jun 11, 2023 at 14:04
Jun 11, 2023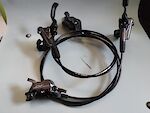 $220 USD
$220 shipped in the lower 48! Deore XT 4 piston brakeset, M8120 series. Been sitting in the parts bin, don't need them, DOT fluid snob. Both brakes need to be bled, had previously cut and installed new lines for an old build that never got finished. No trades. As stated above, $220 shipped in the continental US.
Load more...