powking12
Member since Oct 31, 2002

Red Deer , Alberta
Block user
Recent

Jun 11, 2018 at 7:57
Jun 11, 2018

Jul 6, 2017 at 9:30
Jul 6, 2017

Selling
Jul 6, 2017 at 9:28
Jul 6, 2017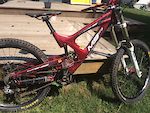 $1500 CAD
Frame: 2013 Intense M9 FRO in Works Red All pivots are tight and in good shape. Frame has normal scratches and scuffs for a DH bike but nothing serious. Cane Creek DB shock with #400 spring. Fork: 2013 Boxxer R2C2 Bushings are solid,no leaking or anything. Fork is is great mechanical shape. Lowers have scuffs/scraped stickers. Drivetrain: E13 cranks (needs new bottom bracket as bearing are crunchy) Straitline pedals Straitline bashguard and chainguide X9 derailleur X0 shifter Shimano brakes Mavic 729 with Hadley hub (rear) Mavic 729 with Hope Pro2 hub (front) Race Face bar Straitline stem Bike is in good riding shape. You could get on it and race or shuttle Moose without having to do anything. I just don't ride it often enough to justify keeping it.

Jul 6, 2017 at 9:13
Jul 6, 2017

Selling
Jul 6, 2017 at 9:12
Jul 6, 2017
$280 CAD
Great shape with tons of pad left. I got them for a build that never materialized so now they need to move. Front hose 31" Rear hose: 63.5" M985 calipers M988 levers Can deliver to Edmonton or Calgary as well

Jul 31, 2016 at 10:16
Jul 31, 2016

Sep 29, 2014 at 15:12
Sep 29, 2014

Selling
Sep 29, 2014 at 15:09
Sep 29, 2014

May 30, 2014 at 9:17
May 30, 2014

May 23, 2014 at 21:54
May 23, 2014
Time to Vote: An Intense Experience at Silver Star Bike Park
I think the Chris V edit definitely shows a deeper processing. It's not just a riding edit but creates and develops the stated theme. I liked the Youngberg edit too but if you watched it and then asked the question, "what is the theme of this vid?" nobody's answer would be, "intensity". In the CV vid it keeps you focused on that theme by stating, then building that theme. Nice work to all of you guys!
Load more...