purchasingabike
Member since Feb 20, 2012

Male / 29
Llanelli , Wales
Block user
Recent

Selling
Mar 4, 2018 at 11:43
Mar 4, 2018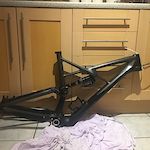 $850 GBP
Hi Guys, It's time for me to move on my Enduro frame. It's been an ace bike, never letting me down once. It's an XL which is ideal for 6ft plus riders. It's boost rear end. Been invisiframed from new but is starting to peel and bubble, I've left it on as I don't mind it. There are signs of use, such as stone chips on the bottom of the rear chain stays and the brace. I'd describe it as good rather than immaculate condition. Comes with original headset, seat post clamp, seat post shim and the Monarch shock. Can post at cost, deliver at cost (within reason) or meet. Kind regards, Owain *PRICE DROPPED*

Selling
Mar 4, 2018 at 11:36
Mar 4, 2018

Dec 8, 2017 at 12:22
Dec 8, 2017

Selling
Dec 8, 2017 at 12:02
Dec 8, 2017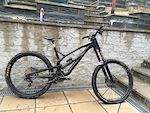 $1950 GBP
For sale: 2018 Nukeproof Pulse RS frame with 2017 componentry. Frame: 2018 Nukeproof Pulse RS (metric shock etc) one ride old! Fork: 2017 Boxxer team (charger damper) Wheels: WTB i25 wheels Tyres: shorty/minion dhf Finishing kit: Nukeproff bar, stem, saddle etc Group set: Sram GX 7 Speed DH Brakes: Guide R The frame is one ride old. fresh headset, bb etc. The parts are one season old but are in full working order if a little scuffed etc. The forks and brakes are freshly serviced for the next owner. The worse damage is the shoe rub on the crank *PRICE DROP!*

Selling
Aug 15, 2017 at 6:22
Aug 15, 2017
$2400 GBP
Up for sale is my 2017 Enduro Elite Carbon. It's been Invisframed from new so the bike is in good cosmetic condition over all, with some stone chips and chain rub which can't be avoided. It's largely standard apart from an upgrade to the RCT3 Lyrik from a stock RC OEM Lyrik, and a change of tyres. It also has a 150mm drop Giant stealth seat post. The spec is as follows: Frame: Fact 9 carbon front triangle/alloy rear end. Fork: Lyrik RCT3 Shock: Monarch Plus Brakes: Guide R (fresh pads + bleed) Dropper: Giant Contact SL 150mm Wheels: Roval Boost wheelset Tyres: Hillbilly grid front + Butcher grid rear (both set up tubeless) Drivetrain: Sram GX 11 speed. Genuinely an amazing bike but I fancy a change after 7 months of ownership. Willing to swap frames for a Large frame enduro 29 (2017/2018 variant) or other XL 29er frames.

Selling
Nov 24, 2016 at 3:55
Nov 24, 2016

Nov 24, 2016 at 3:46
Nov 24, 2016

Selling
Nov 24, 2016 at 3:45
Nov 24, 2016

May 31, 2016 at 12:08
May 31, 2016

Selling
May 31, 2016 at 12:05
May 31, 2016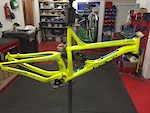 $1050 GBP
For sale is a Large GT Sanction Team 2016 Frame. The frame came off a full build which I stripped for parts and put on an XL frame. It's had a BB and headset fitted from the factory but was stripped as soon as it came out the box. It is box fresh, un-used, mint. Comes with the Fox Float X2! I want it gone so I can get some cash back so will take very close offers. If you have any questions please ask.
Load more...