rbbrandon23
Member since Jun 22, 2014

Male / 30
Denver , Colorado
Block user
Recent

Jul 23, 2020 at 14:17
Jul 23, 2020

Selling
Jul 23, 2020 at 14:17
Jul 23, 2020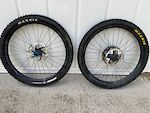 $895 USD
Excellent condition and less than 100 miles Boost Tires Included Rotors and cassette not included

Selling
Jul 23, 2020 at 14:15
Jul 23, 2020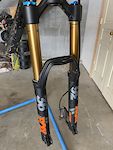 $695 USD
Less than 100 miles, great condition, just over 7" steerer

Dec 24, 2019 at 7:36
Dec 24, 2019

Dec 20, 2019 at 8:24
Dec 20, 2019
2019 Pinkbike Awards: Value Mountain Bike of the Year Winner
Couldn't agree more. Truly doing some revolutionary stuff. Bout time they get the press they deserve. For anyone who is ever in Denver, just stop by the shop. You'll see git, grind and passion.. oh and killer bikes being made. Can't do that in Taiwan, can ya? If you go up to Golden, you'll just see Made In Taiwan shipping containers....

Oct 15, 2019 at 11:39
Oct 15, 2019

Selling
Oct 15, 2019 at 11:37
Oct 15, 2019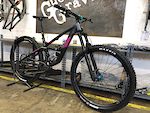 $4800 USD
Unfortunately, due to health reasons, I am selling my Guerrilla Gravity Trail Pistol - Revved Bike. This bike is brand new with less than 5 rides on it. Trail Pistol Size 2 (mostly similar to the old Medium alloy frames) Fits Riders 5'7-5'11 Purple Reign Decals DPX2 210x55 - (130mm of travel vs the standard 120mm) RockShox Lyrik RC2 160mm Industry Nine A35 Stem - 40mm - Turquoise face plate, black body Shimano XT 8120 4 piston brakes AMG Alloy bash guard Shimano XT 12 Speed Drivetrain SDG 150mm Dropper Industry Nine Enduro 305, Hydra Hub, Turquoise hubs with 2 purple key spoks Assegai 2.5 EXO+ DHR 2.4 EXO+ If you built this out on the GG website, it would be $5,500 on the dot. Feel free to ask any questions!

Feb 4, 2019 at 15:24
Feb 4, 2019

Selling
Feb 4, 2019 at 15:23
Feb 4, 2019

Feb 3, 2019 at 20:07
Feb 3, 2019
Guerrilla Gravity's Less Expensive, US-Made Carbon Frame
just to provide some clarity, there was only about a $300 price increase when comparing apples to apples. For example, the Ride 1 last year was GX 11 speed with a e-13 cassette, DT Swiss 1900 and Guide brakes. This year, a Ride 1 is full GX Eagle, Code R brakes and XM 1501s, and a carbon front triangle..
Load more...