robertmcneil
Member since Jun 22, 2009

Male / 52
Saltash , United Kingdom
battered
Block user
Recent

Selling
Sep 21, 2018 at 0:07
Sep 21, 2018
$700 GBP
Fully custom spec genius, mattock pro forks, fox float X with corset , ks dropper hope wheelset xt cranks, Mathura carbon brakes, carbon RF bars Steele industry stem maxcis ardent tyres. Forks and shock serviced and only ridden a couple of times since ,bike in really good condition all works well no play in bearings or bushes.

May 10, 2016 at 22:06
May 10, 2016

Selling
Apr 24, 2016 at 15:28
Apr 24, 2016

Selling
Mar 25, 2016 at 12:45
Mar 25, 2016
$55 GBP
lovely stem great condition, replaced with something shorter so no longer needed, 55 quid posted , no scuffs or marks never been crashed. better pics on request cheers rob

Dec 30, 2015 at 2:43
Dec 30, 2015

Jun 30, 2013 at 12:44
Jun 30, 2013

Selling
Jun 29, 2013 at 15:14
Jun 29, 2013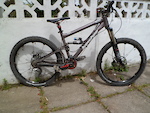 $2200 GBP
ALMOST NEW BANSHEE RUNE1.5 DHX5.0 AIR MEDIUM FOS FLOAT 32 CTD AND DRCV ALMOST NEW. CRANK BROS IODINE2 WHEELS ALMOST NEW. XT 10SPD MECH CASSETTE AND SLX SHIFTER ALMOST NEW KS SUPERNATURAL SEATPOST AVID ELIXER SLC BRAKES RENTHAL BARS AND STEM SAINT CRANKS WITH SLIK GRAPHICS E13 LG1 GUIDE NUKE PROOF HEADSET SCHWALBE TYRES. not even sure I wanna sell this its 150mm on both ends and is awesome to ride really fast and is an ideal endure racing bike should someone be looking for one it weighs in at just over 30lb with this build but could be made lighter easily.i would ideally like to trade for a foes fxr with similar spec but will consider other decent bikes. will post pics later or on request as I have some on my mobile if interested please let me know what you have,sensible offers only please others will be ignored cheers rob.
Load more...