robinfisk
Member since Jan 15, 2017

Stroud , United Kingdom
Block user
Recent

Sep 3, 2022 at 6:58
Sep 3, 2022

Aug 13, 2022 at 6:48
Aug 13, 2022

Selling
Aug 13, 2022 at 6:48
Aug 13, 2022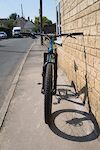 $850 GBP
Bird Zero TR Medium This is good condition Bird Zero TR I bought new in Sept 2018 with few wear marks and no damage. Components are: Bird Zero TR frame Medium Rockshox Pike RCT3 130mm travel WTB i24 Carbon Fibre Rims on Hope Pro 4 hubs with CX Ray Spokes Hope E4 Race 4 Piston brakes with Hope Floating Rotor (160mm R / 180mm F) Hope Headset GX Eagle 12 speed Cassette, Derailleur, and shift level XX1 Eagle cranks with an absolute black oval chainring Renthal Fatbar Carbon 780mm Handlebar with 50mm Renthal Stem 125mm Fox Transfer Factory dropper post Specilized Purgatory Grid Rear / Maxxis DHF Front tyre (no pedals) The bike has light wear but has been looked after and loved. It is a good metallic blue shade and will make someone a fine trail bike. I'm in Gloucestershire and am happy to meet buyers halfway up to a reasonable point, I want a cash transaction.

Nov 23, 2021 at 6:56
Nov 23, 2021

Jun 11, 2021 at 13:58
Jun 11, 2021

Mar 31, 2021 at 1:57
Mar 31, 2021

Mar 25, 2021 at 9:20
Mar 25, 2021
First Look: SRAM Releases GX Eagle AXS Wireless Electronic Drivetrain
I have the rocker paddle on my AXS setup, and whilst it is a better shape than the original paddle, the whole setup is not as ergonomic as SRAM cable shifters. The tactile feedback is poor and it can be difficult to feel any kind of click or feedback on a downshift, meaning you can end up in the wrong gear at the wrong time. At the point your brain starts focusing on how to press your shift level you are going to miss lines then crash. I think SRAM have created half a brilliant product. Brilliant shift, lousy levers. Maybe SRAM will produce a 2nd generation lever with a sensible feel. GX Eagle might be much less expensive, but until the ergonomics is fixed, spend your money elsewhere.

Jan 3, 2021 at 10:32
Jan 3, 2021
Eliot Jackson Signs With Santa Cruz
The way I had my browser window meant the headline read "Eliot Jackson Signs With Santa" I figured Eliot Jackson was going to the north pole to dress up in green and make presents for all the good kids.

Dec 31, 2020 at 5:20
Dec 31, 2020

Selling
Dec 31, 2020 at 5:19
Dec 31, 2020
Load more...