sandwich
Member since Feb 7, 2005

Male / 99
Sudbury , Massachusetts
I liek beiks
Block user
Recent

Jun 1, 2020 at 12:26
Jun 1, 2020

Selling
Apr 26, 2020 at 16:51
Apr 26, 2020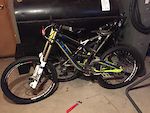 $1500 USD
2014 GT Fury. Started out as a size L expert bikebut found the frame too large. Bought brand new, rode 3 times, then bought a brand new M frame from pricepoint with the RC4 shock. Swapped everything over. It's basically a GT fury Expert on an Elite frame with some notable upgrades. I haven't ridden this in a year and a half. Rode it once the year before last. Rode it three times the year before that. Yay children. I now have money to buy nice parts, but no time to ride. Medium size for these bikes fits like many other bike's large, so take a look at the geo. I ran a shorter stem to keep it comfortable. Bontrager G4 tires mounted tubeless Magura MT5 brakes with race pads, brand new I swapped in an RC2 cart into the fork, plus I have a range of coils for it. Full adjustable hi and lo speed compression RC4 shock, hi lo everything forever and I have a plethora of coils for it as well Shorty 28mm Straitline stem. Also the original kore and a specialized stem if you want 50mm instead. HT plastic pedals Not much to report. The bottom bracket has been a little creaky since I removed and reinstalled the cranks some time ago. It's probably an adjustment issue, but that's the only problem with the bike. It's a little dirty, and a little dusty. It's the stiffest bike I think I've ever ridden. Suspension is tuned to my liking, but as it's sat for two years I may as well try and sell it. Never saw a race, pretty much only jump runs at thunder and some highland braking bumps. We'll see- maybe this is the year I actually ride it at plattekill. I would prefer to sell locally. Bike is big and shipping will likely be $200 between packing and shipping. I will also discount $100 if I can keep the mT5s and put the original formula brakes back on (T1s).

Apr 15, 2020 at 18:45
Apr 15, 2020

Selling
Apr 15, 2020 at 18:44
Apr 15, 2020
$800 USD
Diamondback Century disc, 56cm complete bike with lots of upgrades- this has been my faithful companion for the past several years, ridden regularly but not often. It's been a great bike and I put several upgrades into it but as my mountain bike time shrank, I picked up road biking and bought myself a nicer ride, so I'm selling. 10sp 105 setup, 12-27 cassette, 36-52 cranks, 105 shifters Deda 35 bars (44cm) and 110mm stem Carbon Seatpost Selle SMP Drakon or Selle Italia SLR ti saddle, your choice TIME AXS pedals, with cleats 50mm Carbon wheels with Novatec 712 hubs- good, reliable QR hubs, 11sp compatible TRP HY/RD brakes front and rear, 160/140mm lightweight rotors. Just about the only things left stock were the front and rear derailleurs and the tires. I would be happy to trade toward a cheaper 29er mountain bike or touring/gravel/CX bike plus cash as I'm looking to downgrade.

Jan 16, 2020 at 8:58
Jan 16, 2020

Selling
Jan 16, 2020 at 8:58
Jan 16, 2020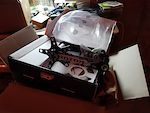 $60 USD
Rotor 3DF cranks, bought brand new on Ebay but they were mislabeled as road cranks with a Q factor of 148...they are actually 163mm and are therefore mountain cranks. These have an XC2 spider, which is good for single speed or double speed mountain use (76/110mm). I was going to run a single ring on my road bike, so this was perfect for me. Maybe it can be perfect for you! I took the cranks out and tested them for fit, but they have never been assembled Spindle is 30mm aluminum. Length is 172.5mm. Rotor's UBB is compatible with virtually everything aside from bb90 (sorry trekkies), you just need the right spacers. Includes chainring bolts and some spacers. Price includes shipping and paypal fees, so $60 gets these to your door- I'm just trying to break even.

Sep 7, 2019 at 5:17
Sep 7, 2019

Selling
Sep 7, 2019 at 5:17
Sep 7, 2019

Apr 28, 2019 at 8:22
Apr 28, 2019

Selling
Apr 28, 2019 at 8:20
Apr 28, 2019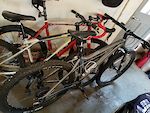 $600 USD
Complete mostly stock diamondback Mason trail. Originally set up as a 650b+ bike Size large. Was rarely used, I used it to tow my kids to the park and ride bike paths. I have literally never ridden this bike on the trail. Only mods are some oil added to aid progression in the fork and I put a nice set of raceface 29" wheels on it. Factory wheels and tires are still available and set up tubeless. Bike rides and runs great but I'd like to get an ebike for commuting. Never needed such a nice bike for what I did with it, but the value is so huge compared to some of the garbage you find on Craigslist. This bike came stock with 35mm bars, a clutch derailer and a narrow wide chainring. Will sell stock for 600 and with the 29" wheels and tires included for $100 extra. Can take more photos if desired. Only wear is some scratches on the bars from carrying my daughter's bike after she crashed.
Load more...