sandwich
Member since Feb 7, 2005

Male / 101
Sudbury , Massachusetts
I liek beiks
Block user
Recent

Selling
Jan 1, 2023 at 18:00
Jan 1, 2023

Nov 1, 2022 at 4:49
Nov 1, 2022

Aug 9, 2022 at 9:00
Aug 9, 2022

Selling
Aug 1, 2022 at 9:33
Aug 1, 2022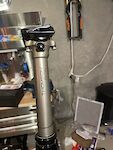 $60 USD
2015 Thomson Dropper seatpost, 30.9mm x 400mm x 125mm drop. Post is in excellent condition externally. It drops 2-5mm when you sit or lean on it. Seems to be a common issue with these posts. I ended up replacing this post with one that had additional drop and fit my frame (31.6mm) better. Was purchased new through competitive cyclist.

Jul 28, 2022 at 6:59
Jul 28, 2022

Selling
Jul 28, 2022 at 6:58
Jul 28, 2022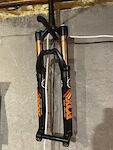 $500 USD
2015 fox 36 RC2. 29" wheels, 51mm offset. This thing is practically brand new and is one of my favorite bike parts ever, but I'm a big dum dum and bought a trust fork anyways. Fork has internal travel adjust, which I will include spacers for, and an adjustable axle that can do 15x100mm or 20x110mm non boost. I ran it 20mm for one of the stiffest front ends I've ridden. Fork was always maintained according to instructions with fox gold oil and slick honey. Steerer is ~7" I've held onto this fork without riding it for 2 years as I wasn't sure I would like the trust fork, and I had dreams of having one bike that I converted for DH or trail use...but now I think I'd rather let the fork and shock go and keep the DH bike.

Selling
Jul 28, 2022 at 6:57
Jul 28, 2022
$250 USD
2017 fox float x2 kashima. Has the climb switch, and working hi/lo adjustments for compression and rebound. Measures 7.875x2.25 or 200x57. Shock was working fine when taken off, but admittedly it made a squidgey sound on the first compression of the ride. I'm not sure if this is air mixed in the oil, or if it's grease moving across the equalization port. This could be a good opportunity to have it rebuilt or tuned to your liking, or it might work fine for you like it worked for me (I took it off to short shock my bike, not because it wasn't working). Just want to be straight about the condition. Happy to ship, make an offer. Currently has two orange bands in it. From FOX: 2017 Factory Series FLOAT X2 Part number: 973-01-168 Description: 2017, FLOAT X2, F-S, K, 2pos-Adj, FOX, AM, 7.875, 2.25, 0.3 Spacer x1, CM, Orange Logo

Selling
Mar 18, 2022 at 4:29
Mar 18, 2022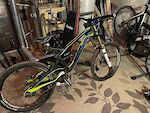 $1000 USD
Reluctantly selling my 2014 GT Fury, size Medium. I bought this bike new as a Large "Expert" complete bike. The frame was too large for me, so I purchased a brand new medium "team" frame and swapped all the parts over. I've steadily upgraded a large portion of the parts such that it's ready for hard riding without issue (which is why I'm reluctant to sell) but I also have ridden it twice in the last 5 years, so it's time to move on. 2014 GT Fury Team Medium Frame Fox RC4 rear shock Fox 40 Coil fork- upgraded damper to RC2 Magura MT5 brakes with upgraded race pads- the most powerful brakes and pads magura sells. Recently upgraded one-finger levers Stans Flow EX wheelset run tubeless on Bontrager G5 tires. Need a fresh shot of tubeless sealant (see the front tire low on air) but otherwise problem free HT Plastic pedals Otherwise specs are identical to a stock Fury expert of the same year: https://www.vitalmtb.com/product/guide/Bikes,3/GT/Fury-Expert,12918 I love riding this bike and it is finally problem free and dialed in after all the upgrades, but I rode it once at highland last year and zero times the two years before that. Prefer local pickup if possible.

Feb 18, 2022 at 14:00
Feb 18, 2022

Selling
Nov 18, 2021 at 17:59
Nov 18, 2021
Load more...