shoreguy21
Member since Nov 22, 2012

Male
North Vancouver , British Columbia
Block user
Recent

Jul 20, 2018 at 13:00
Jul 20, 2018

Selling
Jul 20, 2018 at 12:57
Jul 20, 2018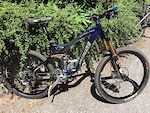 $975 CAD
A great bike with lots of upgrades. Perfect for someone starting out or younger person looking for fantastic value. This bike can do it all from tech to flow trails to park. This is my daughters bike and has been used for mainly light rides, and maintained with care. ('Cause I'm a good Dad) Carbon main frame with aluminium rear triangle Fox 36 Talas front fork with lockout for climbs and 20mm through axle for ploughing on decents 26" wheel size Shimano XT rear derailleur ( 2x10 setup) Shimano XTR brakes (easy to maintain and will stop on a dime) Chromag stem, seat, and grips. Many years of fun left on this rig.

Nov 13, 2017 at 14:02
Nov 13, 2017

Selling
Nov 13, 2017 at 13:52
Nov 13, 2017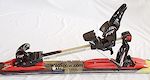 $150 CAD
Complete set with all parts and mounting hardware in tact. Near New condition. Very light use over one season.

Selling
May 24, 2016 at 11:15
May 24, 2016

Jun 19, 2013 at 8:09
Jun 19, 2013

Jun 6, 2013 at 7:45
Jun 6, 2013

May 16, 2013 at 10:47
May 16, 2013
The Kids Don't Ride
Growing up as a musician I promised never to force an instrument on my kids, and didn't. Merely made music (and instruments) available to them to play with and explore. As an obsessive Mtn. biker I dreamed about sharing the north shore trails with my kids and got them involved with Shore Riders (youth riding) as early as possible. They gave it their best shot and try as I might to accomdate them, it just didn't take. In the end I had to let it go, or they would have ended up hating it forever. Fast forward nearly 20 years: Neither of my kids even own a bike now, but they have always know and appreciated what it means to me. But my son - recently diagnosed with thyroid cancer - presented me with a card to open for my birthday a couple of weeks ago. Inside was a date for us to ride Whistler Bike Park. "I've been giving it some thought", he said to me "and I think it's time we gave this another try." Suffice it to say I completely broke down. He's scheduled to have his thyroid removed tomorrow - same day Whistler Bike Park opens as it turns out. We are both looking forward to the joy of spending a day together on bikes.

Apr 5, 2013 at 10:53
Apr 5, 2013

Feb 10, 2013 at 15:53
Feb 10, 2013
Load more...