The ultimate dream of every cyclist must be to birth new cyclists. Breeding cyclists anyway. The giving of the great gift. You have somehow found the flow, speed, thrill, efficiency, freedom, and unequivocal perfection of the bike. Of being a cyclist. And now you've passed that on. The great trail will continue farther than you can see. Bombing down a sweet mountain trail, hammering up some distant road, generations of gaffers nipping at your wheel.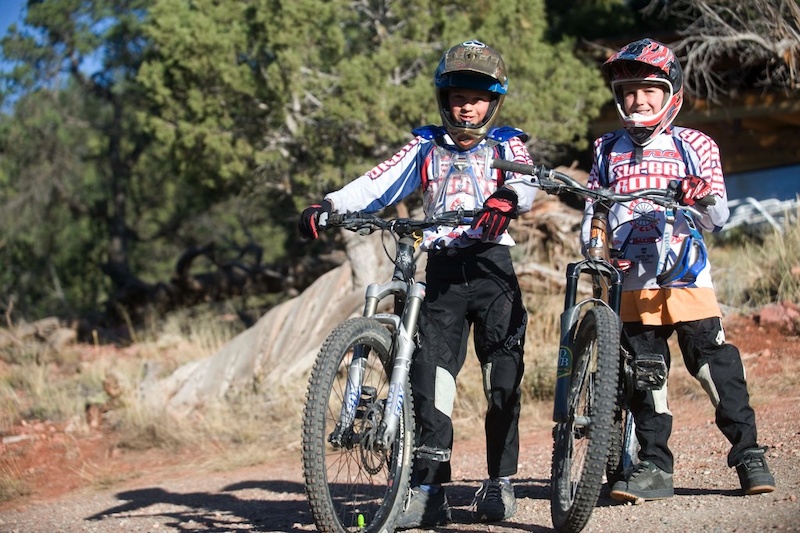 Got all the gear, but is biking really what they want to do?
As the father of two sons, one 14 and the other 10, I've worked reasonably hard at trying to realize the dream, of trying to churn out a pair of fanatical cyclists. Turns out, I've failed. To date, anyway. I mean, they ride, but the days of me being in relative control (when they were little and didn't have attitude and just by raising my voice I could make them do pretty much anything), of being able to make them come ride with me, have been outweighed by other sports, friends, girls, and this bizarro tabletverse we call 2014.
I feel I've done my part. Sure, I could have tried harder. I could have sacrificed some of "my" ride days for "kid" ride days. But that's somewhat ridiculous. To pass on the dream you truly need to live the dream. Right? They've been in bikes. Good ones. Right from the get go. Hell, my youngest has never not had disc brakes. The oldest had a dually when he was 10. There's been one trip each to Whistler, weeklong camping sessions to locations loaded with singletrack, what else can a fella do?
And sure, they still ride. A little. I'm actively forcing my 10-year-old and infrequently coercing my teenager. And while I might still have a chance with both, I'm focusing on the little guy. He takes a reasonable amount of lead up and deal sealing, but once he's out there, he's into it. Until or unless he crashes, or scrapes the back of his leg on his pedal, then the whole dad-makes-me-bike-when-I-don't-want-to vibe comes out. I struggle with that one.
The 14-year-old, well, he used to be pretty into it. We'd ride a lot. He even got into building jumps in a vacant lot behind our house. For a while I thought it was on, consummation of the lineage confirmed. But then a shift happened. I got him a pretty sweet all mountain bike for his 13th birthday and he freaked. Lost it in front of the whole party. Stoked beyond measure. But as we progressed onto more technical trails with bigger approaches and longer climbs, he quickly lost interest. His under regions were chaffing (he refused to wear chamois even under his shorts, "soooo not cool"). The climbs killed him mentally--stupid, ridiculous, painful things he absolutely loathed.
Not one for shuttling everywhere, I incorporated vehicle assists into my assault brief, aiming to take the bite out of the ride. But then there'd be a tree down, or he'd have to walk over too many technical sections, and all of a sudden the trail sucked, mountain biking was lame, and he'd rather be at the beach with his buddies where the chance of ragdolling through the bushes was low. I quickly began to realize that the equation of right trail, right teenage mental frame of mind, right time, right uberpatient dad became too much of an algorithm for my non-algebraic brain, and I kinda gave up.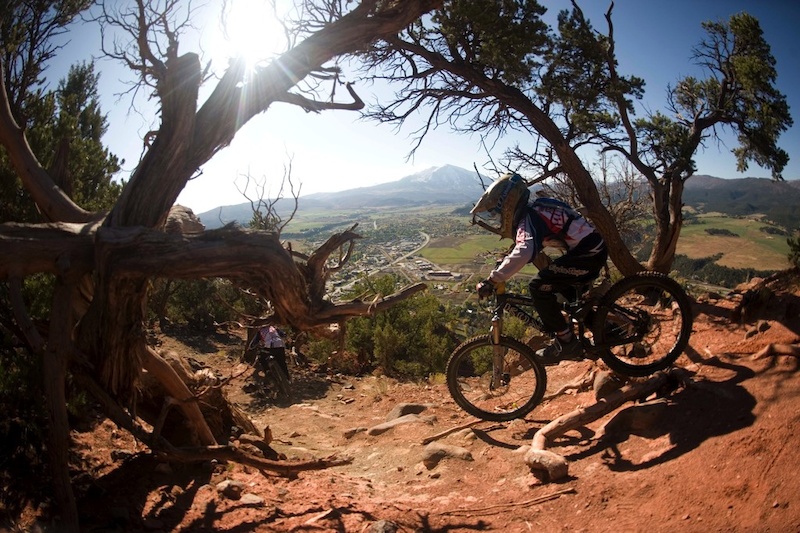 It can be intimidating for the young riders.
Now, it should be known that we live in a particularly challenging geographic location. It's rooty, hilly, rocky and rough. Compounding that physical reality, the last 20 years of trail development is the result of core mountain bikers exercising their core whims. Up until the local cycling club had the resources to build and maintain trails a few years ago, most were illegally built, purposefully gnarly, and made primarily for and by expert mountain bikers. And as we all know, a diversely and well planned trail infrastructure takes time, effort and resources. Only recently have more friendly, intermediate trails started to work their way into the web. Funny to see though, that most beginner trails are being built by those original core riders who've now got kids. In the wilds of southern B.C., the dream takes work.
To be sure, I'm not blaming anyone or anything on my failure to breed passionate cycling kids. The riding in my hometown rules, and so does the culture. There's a skills and dirt jump park for the kids, and the dudes are out there (I say dudes because there are virtually no girls), but not in the numbers you'd think. When I poll the friends of both my children, very few even have a bike, let alone are into riding. A couple have dads who ride. So how does that affect the future? Is my town unique? What conditions are best suited to lots and lots of kid mountain bikers? Or is this just the nature of mountain biking? Are those who fall in love with this sport a particular, small percentage breed. Really, look around you, how many of your friends are committed cyclists?
These are the questions I ask myself on life's long and lonely climbs. That being said, I've never seen our local cycling culture more alive. At a recent enduro event, there's a healthy populace of young, rosy cheeked 20 somethings. I ask some of them how they got into riding, and very few had parents who ride. Most somehow got themselves on a mountain bike when they were a teen and knew they were hooked.
Kind of like most of us. But not all. You see, one of the greatest things my dad ever did was buy himself a mountain bike in 1985. He bought it from the Cove Bike Shop and it forever changed the lives of me and my friends. We had to have one. So we got paper routes, saved our pennies and never looked back. At 16 it was our first big purchase. We've all stayed committed mountain bikers ever since.
Which makes me feel a little better. I think cycling is one of those sports you either love or hate. It's also one more likely to hit you when you're fully grown. Let's face it, you have to be slightly masochistic to really fall for it. You have to be able to suffer, whether in the lung, the leg or some internal organ you hopefully don't need. There will be blood, your wallet will weep, mechanicals will strike you down in the middle of the abyss, and a big ol' never ending hill that never seems to end can suck harder than anything else ever.

Holly helping the youngest generation enjoy learning.
And while it's hard to not see my kids become overun with the beauty that is riding a bike through the woods, maybe now I wait in the ready. They're still young. There's time. Perhaps they'll see me come back from a big ride one day, all dirty and smiling and full of stoke, and they'll gear up and we'll head out for another lap right then and there. I'll be smart enough to take them on the one trail in town that fires them up with smooth flow, watch them nail a couple of tech sections, think the climb wasn't so bad, forgetting about undernether chafe, and then go again tomorrow. And the day after that.
Or not. In which case I'll just keep riding with my friends. And that won't be so bad. Gaffers nipping at my wheel would be better though. That still is the dream. Maybe I'll get the little guy a new fork...