shred-zilla
Member since Aug 16, 2010

Male / 33
Memphis , Tennessee
Block user
Recent

Oct 21, 2021 at 9:17
Oct 21, 2021

Selling
Oct 21, 2021 at 9:14
Oct 21, 2021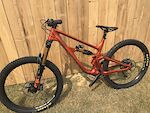 $3200 USD
'21 Revel Rail size large. Frame and suspension was ridden less than 10 times. Frame has upland stoke frame protection from the beginning. Frame is in excellent condition. Frame is unregistered for warranty. ***Price is frame and X2 Shock*** Will entertain parting it out with the list of parts below Shipped via Bikeflights Located in Memphis "21 Fox Factory 38 grip 2- 170mm '21 Fox Factory float x2- 165mm rear wheel travel Canecreek BB Canecreek 40 headset Shimano XT Deore M8130 cranks 170mm Shimano XT Deore 32t E-Thirteen 11speed 9-46t cassette Shimano XTR RD M-9000 derailleur Shimano XTR SL M-9000 shifter Shimano XT M-8120 brake set Ice Tech rotors - 203 front / rear Crankbrothers lever Crankbrothers Highline dropper post 170mm Ergon SM10 seat Raceface Turbine 35mm stem Raceface Next carbon bars Lizardskins grips Wheels were on a different build, are used. Tires have about 90% of life left E-Thirteen Wheels (27.5 30mm inner width) 2.5 Maxxis Assagai exo maxx terra front 2.5 Maxxis DHF exo+ maxx terra rear Orange seal tubeless

Selling
Oct 21, 2021 at 9:12
Oct 21, 2021

Sep 26, 2021 at 20:06
Sep 26, 2021

Sep 12, 2021 at 19:01
Sep 12, 2021

Selling
Sep 12, 2021 at 18:59
Sep 12, 2021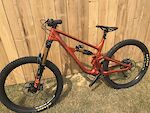 $5500 USD
'21 Revel Rail size large. Frame and suspension was ridden less than 10 times. Frame has upland stoke frame protection from the beginning. Frame is in excellent condition. Frame is unregistered for warranty. Will entertain parting it out Shipped via Bikeflights Located in Memphis "21 Fox Factory 38 grip 2- 170mm '21 Fox Factory float x2- 165mm rear wheel travel Canecreek BB Canecreek 40 headset Shimano XT Deore M8130 cranks 170mm Shimano XT Deore 32t [can add on Shimano XT 12 speed hyper glide, email for info] E-Thirteen 11speed 9-46t cassette Shimano XTR RD M-9000 derailleur Shimano XTR SL M-9000 shifter Shimano XT M-8120 brake set Ice Tech rotors - 203 front / rear Crankbrothers lever Crankbrothers Highline dropper post 170mm Ergon SM10 seat Raceface Turbine 35mm stem Raceface Next carbon bars Lizardskins grips Wheels were on a different build, are used. Tires have about 90% of life left E-Thirteen Wheels (27.5 30mm inner width) 2.5 Maxxis Assagai exo maxx terra front 2.5 Maxxis DHF exo+ maxx terra rear Orange seal tubeless

Aug 7, 2021 at 18:29
Aug 7, 2021

Selling
Aug 7, 2021 at 18:27
Aug 7, 2021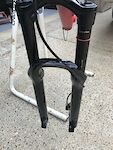 $700 USD
Less than 10 rides! Fork is in fantastic shape. No scratches on the legs or stancions. Truly in perfect shape. Current setup is: 160mm debonair spring 37 offset for a 27.5 wheel Charger 2.1 RC2 damper Comes with 150mm debonair spring.

Aug 7, 2021 at 12:35
Aug 7, 2021

Selling
Aug 7, 2021 at 12:33
Aug 7, 2021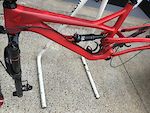 $1500 USD
2018 YT Jeffsy Medium frame for sale. Frame is in good condition with some cosmetic rubs and chips. DPS shock just serviced as well as the frame bearings. Frame will come with: MRP bash guard and chain guide Acros headset Bottom Bracket Bottle cage Shipping +$50
Load more...