shredstatus
Member since Dec 17, 2009

Male / 26
San Jose , California
Block user
Recent

Sep 30, 2022 at 16:36
Sep 30, 2022

Selling
Sep 30, 2022 at 16:35
Sep 30, 2022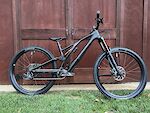 $4250 USD
Selling my beloved 29" 2021 Specialized Stumpjumper EVO Expert in size S4 (comparable to Large). Most of the parts are brand new, never ridden, and pulled off the 2022 model. Everything else is in excellent condition. More details below: Frame: 2021 Stumpjumper EVO S4 29" Fork: 2022 Fox 36 Performance Elite (new, never ridden) Shock: 2021 Fox DPX2 Factory (standard service ~5 rides ago) Drivetrain: Sram X01 Eagle (chain, GX cassette, cable replaced 10-12 rides ago) Brakes: Sram Code RS (pads replaced and bled ~5 rides ago) Wheels: Roval Traverse Alloy (new, never ridden) Tires: Specialized Butcher T9 front / Eliminator T7 rear (new, never ridden) Seatpost: OneUp 170mm dropper (new, never ridden) Saddle: Specialized Bridge (new, never ridden) Bars / stem: Specialized alloy (new, never ridden) Grips: Sram (ridden 3 times) The bike is in near perfect condition. The only sign of wear is a little paint rub off the crank (which is natural). Only selling because I bought a new one in a different color. Text or call if you have any questions or want to meet up!

Jul 25, 2022 at 20:06
Jul 25, 2022

Selling
Jul 25, 2022 at 20:03
Jul 25, 2022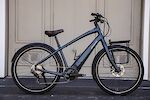 $3250 USD
Selling my 2021 Specialized Turbo Como 5.0 in (size Medium / Large). This is the top of the line model and comes fully loaded with the most powerful motor option, highest battery capacity, lights, racks, computer, charger, and more. This bike is Class 3, which means it provides motor assist to 28mph. For all specs, check out the Specialized website at this link: https://www.specialized.com/us/en/turbo-como-5-0-650b/p/184398?color=293083-184398&searchText=90420-3003 I am the first owner of this bike. Everything works perfectly, battery reports 100% health, software is up to date, and the bike was just serviced a couple weeks ago.

Jun 30, 2022 at 8:15
Jun 30, 2022

Selling
Jul 4, 2018 at 19:27
Jul 4, 2018

Selling
Jul 3, 2018 at 18:57
Jul 3, 2018
$4450 USD
Selling my beloved 2016 Yeti SB6c. Like I said in the title, this bike has a "dream build" -- which means no expenses were spared in building it. This bike has always been meticulously maintained. I bought it off a friend last year who is a bike mechanic and took extremely good care of it. Since then, I've also taken great care of it, and had all maintenance performed at trustworthy shops. BUILD: Frame: 2016 Yeti SB6c Size Large Fork: Fox 36 Fit4 Shock: Fox DHX2 coil Seatpost: Fox Transfer Brakes: Shimano Saint w/ Ice-Tech FREEZA center-locking rotors Front Wheel: DT Swiss M1501 Rear Wheel: DT Swiss M1700 + extra DT Swiss M1501 Cranks: Shimano XTR Deurallier: Shimano XTR (2 months old) Cassette: Shimano XT 1x11 (2 weeks old) Chain: Shimano XT (2 weeks old) Headset: Chris King Bottom Bracket: Chris King Bars: Chromag Fubar Step: Fouriers Grips: Sensus Seat: WTB Volt + EXTRAS: Rear DT Swiss M1501 wheel (just needs to be trued) Maxxis Minion DHF Not many cons to it! The frame has some regular scratches from bike racks and shuttle pads, but nothing too deep or out of the ordinary. The rear wheel has a little flatspot in it, but it doesn't leak, and I am including the extra DT Swiss M1501 wheel - the M1501 just needs to be trued. Rear tire could be replaced, but I'm including an extra. I absolutely love this bike and would keep it for longer, but I started a job at Specialized and will be transitioning to of their bikes. CALL/TEXT if me if you are interested for the quickest response.

Selling
Jul 3, 2018 at 7:38
Jul 3, 2018

Aug 1, 2015 at 21:03
Aug 1, 2015

Selling
Aug 1, 2015 at 20:45
Aug 1, 2015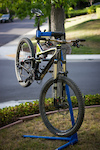 $2500 USD
This is my 2012 Stumpjumper Expert Evo. I bought it two years ago off my good friend who bought it brand new and only owned it for about a month before me. Since then, I haven't even ridden it a dozen times. I kept it maintained while it sat in my garage so everything works and looks like it did right out of the factory! The bike is stock except for the following: Renthal Bars Brand new Specialized Purgatory tire with one ride on it (fresh Stan's in both tires) This is hands down the best bike I've ever owned, and I'm only selling it because of how rarely I use it. Call/text if you have any questions or are interested! -Gabe P.S. Would trade for professional camera gear or gear plus cash!!!
Load more...