It is always great to see innovation in this industry! Especially innovation that does not result in a new "standard". Sure, some of the new "standards" are great, but for many, it makes things unattainable. It is nice to be able to simply upgrade your current ride with new technology. Canfield decided to bring to the average rider something only previously seen on World Cup race bikes.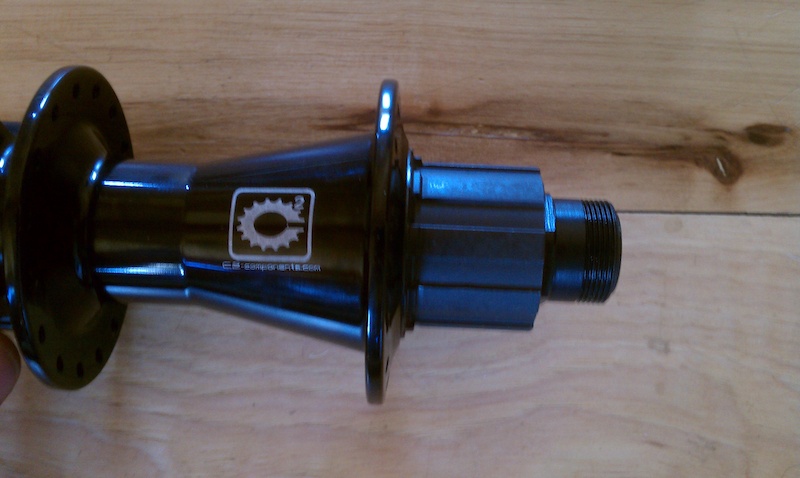 A few years ago DT Swiss and a few other companies put together a driver-style freehub to allow riders to run a smaller front chain ring and a wider range, yet still compact cassette. It was seen on riders like Sam Hill's World Cup bikes. The average rider has never seen it available. While it never went to production, it helped spark a movement. (The complete Specialized Carbon Demo will be the first production bike to have the DT Swiss version of this hub) Sram's XX1 uses a similar concept. The Canfield Brothers got together to produce a 9t compatible hub. Able to work with 9 or 10 speed drivetrains, it makes 1x9/10 systems for your trail bike perfect or allow you to run a 30 or 32 tooth ring on your DH bike for maximum clearance. You can also run a cassette ranging 9-36! Available in 150, 142, and 135 widths, there is a hub available for your bike. While it is hard to claim a hub as revolutionary, a driver style hub for mountain bikes kind of is. It simplifies your bike, increases your ground clearance, gives you a wider gear range, and makes for a cleaner looking drivetrain.
As you can see by the photo, the freehub is significantly different than a standard hub. This is what allows the 9t cog to fit. As result of this different freehub, a different lockring is used and therefor a different lockring tool is used. Just something to keep in mind as this is an additional expense for those who like to have all the tools for their bike in their tool box.
Set Up
I have been on this hub most of the summer. The original set up on my Transition TR250 was running a 36t chainring, 11-26t cassette, and an MRP System 4. With the new hub, I put on an MRP G2SL Mini guide and a 32t ring, and a Shimano Capreo cassette 9-26. This gave me about 1/2 inch more clearance, a wider range on the cassette and similar top end gearing. You will need to run a specific cassette, but Canfield will be happy to set you up with one. The upper cogs are traditional cogs, but in order to make the 9t fit, the bottom few cogs are smaller and a different type of lock ring is used. Since I got just the hub, I laced up a DT Swiss F630 rim. The hub uses traditional J-bend spokes which are easily found through any bike shop, so in a pinch, you won't be stressing about finding a specialty spoke.
Other options: MRP makes a Micro guide which will allow you to run a 30t or even a 28t front ring. With a 4 bolt crank, a 32 is the smallest you can run, but with something like the XO crank, you can run those smaller rings. If you are looking for a more pedal-friendly cassette, you can run all the way up to a 36t cog on the cassette.
Initially I was concerned that the 9t would be a problem with a regular chain as opposed to a half-link which worked better on my driver hubs on my hardtail. But, I did not experience any issues with the chain slipping or not engaging enough teeth on the cog. Overall, it worked like a cassette. The derailleur lines the chain up for the gear and the cassette holds it there. Nothing revolutionary, just a solid improvement if you are seeking greater clearance or a larger gear range.
The Ride
I had been running a Hadley hub on my Transition TR250, so I was used to the high engagement. When I put on the Canfield hub, I was immediately impressed with the engagement. I could not tell a difference on the trail between my tried and true Hadley hub and the new Canfield hub. It also has a very positive engagement, a solid click and after months of use, no slippage. The hub sounds great without being annoying while on the trail. The durability of the hub is solid for a high end hub of this nature. The bearings are durable and showed no signs of wear at the end of the summer when I opened it up to check them. They were tight, smooth and still had plenty of the original grease. The cassette worked like a cassette. A solid piece from Shimano that does its job.
The Conclusion
High end hubs change the on trail feeling of your bike. The quick engagement means instant power to the ground coming out of corners and for sneaking in a pedal before a jump. High end, high engagement hubs range from a few hundred bucks up to upwards of $500. The Canfield Components 9t Micro Drive rear hub at $300 is right in the mid-range price while offering great engagement and a durable product. This hub increases your drivetrain clearance for rough terrain and makes 1x10 on your trail bike a much more reasonable venture.