teagues
Member since May 4, 2006

42
Reno , Nevada
Block user
Recent

May 10, 2022 at 6:46
May 10, 2022

Selling
Mar 28, 2022 at 9:39
Mar 28, 2022

Feb 10, 2022 at 13:08
Feb 10, 2022

Dec 23, 2021 at 11:03
Dec 23, 2021

Dec 21, 2021 at 8:37
Dec 21, 2021

Dec 20, 2021 at 10:49
Dec 20, 2021

Dec 16, 2021 at 13:15
Dec 16, 2021
Field Test: Specialized Stumpjumper EVO Alloy - The Golden Retriever of Bicycles
@uncajohn: Less complicated, higher quality bike? Sure, the concept is sound. I spent way too much this year building a new hardtail because I enjoy the novelty of "simpler times" when I started riding, but only to a slight degree...why would I want to go back to bad, squirrely geometry and small wheels? And at the end of the day, all your questions come to a moot point: When we're talking about new, "relatively affordable" mountain bikes, we're still just talking about people and their disposable incomes and the TOYS they prefer. If you need to square consumption, hobbies, and utility, it's fine. It's just not for most users here.

Dec 16, 2021 at 12:46
Dec 16, 2021

Dec 16, 2021 at 12:27
Dec 16, 2021

Selling
Dec 15, 2021 at 14:18
Dec 15, 2021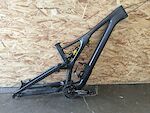 $2600 USD
2020 Specialized Stumpjumper EVO frame, 29" wheels, purchased in May 2020. Size is S2 for the 2018-2020 EVO series, which is now the S3 for the newest EVO (equivalent to a Medium). Lightly used, never abused for a season, low hours; no scuffs or scratches beyond the insides of the chainstay/seatstay yokes, currently covered with cut pieces of AMS frame protection. 2020 Ohlins TTX Air shock with stroke spacer pulled (210x55mm), giving the frame another 13-14mm of travel over the stock 210x50 these came with. I'll include the 170mm RaceFace Turbines, 32t Wolftooth HG+ ring, a brand new FSA headset, and the Cane Creek Hellbender 70 bottom bracket. No trades, US only, buyer pays shipping.
Load more...