toemarse
Member since Nov 27, 2011

Male / 50
Lancaster , United Kingdom
Its not a proper ride without a bit of hike-a-bike action.
Block user
Recent

Nov 22, 2022 at 12:53
Nov 22, 2022

Sep 15, 2022 at 4:19
Sep 15, 2022

Selling
Sep 15, 2022 at 4:17
Sep 15, 2022
$30 GBP
I am looking to buy a Rockshox Zeb 170mm air shaft - cash waiting.

Selling
Sep 2, 2022 at 2:35
Sep 2, 2022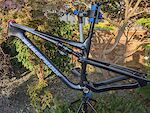 $900 GBP
Nukeproof Reactor 29 RS carbon large. Custom painted for my wife matt black with silver glitter flake clear coat. Paint looks good and tidy and included Slik Graphics decals, but it isn't pro quality. Frame has not had a lot of use and has had an easy life. It does have some usual wee marks/scratches from normal wear and tare but no big chips and scrapes. It's a 130mm travel trail ripper and super capable but comes fitted with a 5mm longer stroke Rock Shock Super Deluxe with an offset bushing that gives just over 140mm travel. Under full compression the back tyre does not touch the seat tube! It can be run with a 140 or 150mm fork. It was badged an RS model and was run with a 150mm Lyrik. The bearings are all in good condition, fairly recent and not had much use. Bottom bracket thread is perfect. Frame comes fitted with Cane Creek purple headset, black Nukeproof seatclamp, rear brake mount and cable guide set. Full details here https://tinyurl.com/yn8drs63

Sep 2, 2022 at 0:29
Sep 2, 2022

Selling
Mar 6, 2022 at 12:55
Mar 6, 2022
$200 GBP
Fox Float DPX2, Factory Series, Kashima, 3 Position, EVOL LV, Custom CL, DRL with bearing lower mount 210 x 50 mm lenghth/stroke. The shock's condition is like new, as it came fitted to my Nukeproof Reactor Factory RS but was removed after 4 rides and swapped for Rockshox.

Mar 6, 2022 at 12:39
Mar 6, 2022

Selling
Jan 30, 2022 at 5:36
Jan 30, 2022

Dec 14, 2021 at 15:11
Dec 14, 2021
Video: Rider Flees Scene On Electric Motorcycle After Allegedly Hitting & Injuring Mountain Biker
That looks a nasty accident. No idea why you would leave when the other person involved is on the floor still! The spec sheet for those Sun Ron emoto-x bikes is similar to a 250 MX bike, but silent. I''very seen them on a Lake District bridleway in the UK and they absolutely rip. The walkers I came across as I followed them looked pissed. All the other trail users see is bikes and we are all tarred with the same brush.

Selling
Nov 20, 2021 at 0:10
Nov 20, 2021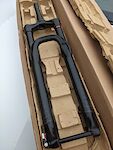 $200 GBP
Travel: 160mm Offset: 51mm Axle: Boost 15mmx110mm Steerer: Tapered Aluminium cut to 155mm Upper Tubes: 35mm Tapered Aluminium Upper Tubes: 35mm Tapered Aluminium Axle to Crown: 571mm (29"/160mm travel) Damping: Motion Control Spring: Solo Air Adjustments: External rebound, low-speed compression to firm Maximum Rotor Size: 200mm Lockout: Yes Fork Material: Aluminium Alloy MTB: Yes The 155mm steerer was a perfect fit for both my large framed Nukeproof Mega and Reactor. Lowers and internals brand new but crown and steerer a year old. I used this to swap the offset on my Lyrik Ultimates from 51 to 42mm.
Load more...