zenmaster
Member since Sep 13, 2006

Male / 29
Vancouver , British Columbia
I ride bicycles.
Block user
Recent

Selling
Jul 9, 2021 at 15:54
Jul 9, 2021
$3000 CAD
2015 Kona Process 153 DL. Size medium. Pike up front and Monarch in the back. Drivetrain is a SRAM GX Eagle derailleur, NX cassette, and NSB chainring. Brand-X (Chain Reaction Cycles house brand) dropper post. Deore brakes, front is quite new. Kore stem, rims, carbon bar, seat, stem, pedals. Minions front and back still have some life but I expect could use replacing soon. There is absolutely nothing wrong with the bike as far as I know. Selling because I have too many other expensive hobbies. Haven't been out for a ride in months so I think it's time to sell.

Jul 21, 2020 at 21:22
Jul 21, 2020

Selling
Jul 21, 2020 at 21:21
Jul 21, 2020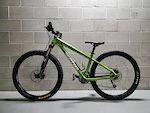 $550 CAD
2015 Kona Cinder Cone size small. Bought last year from a fellow who had it for his kid. Girlfriend said she wanted to try mountain biking but it isn't her thing. All stock components. See component list here: https://2015.konaworld.com/cinder_cone.cfm Basically brand new Maxxis Ardent front tire I put on the bike. Also have a pair of replacement brake pads I will throw in. No problems. Bike runs well. Brakes could use a bleed. Text for fastest reply!

Selling
Jul 21, 2020 at 21:13
Jul 21, 2020
$250 CAD
No need for a trailer hitch! Two bike rack fits most cars and SUV's. Rack locks each bike individually plus the entire rack to the vehicle. Steel cable secures the rack to the vehicle. Please text for fastest reply!

Selling
Sep 16, 2019 at 17:29
Sep 16, 2019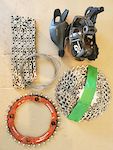 $100 CAD
I upgraded to 12 speed so I'm selling my old 10 speed drivetrain. GX derailleur X7 shifter PG-1070 cassette (11-36 tooth) KORE 104-32T, very orange, has the alternating thick / thin teeth for chain retention PC-1091 chain Lots of life left in all components. Not all that interested in selling individually. I will respond much faster to text or call than message on here.

Selling
Sep 2, 2019 at 13:55
Sep 2, 2019

Selling
Jun 29, 2011 at 19:14
Jun 29, 2011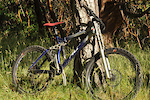 $550 CAD
If you want a solid versatile bike that can ride anything, you've found your bike. 2005 Giant AC-3. Blue / silver. I bought this bike three years ago, dumped a bunch of money into it, and then lost interest in biking. I can easily list off over $1000 in components that don't even have a seasons riding on them and that's not including shop labor. I'm now a college student looking for money to buy a car so the bike has to go. The frame is about 17". Rear suspension is adjustable from 6"to 4.5". It climbs really well and it actually weighed in about 2 pounds lighter than my buddies six grand race bike. The drivetrain has been completely replaced, along with the bakes and wheels. Most of the upgrades I did to the bike were done right before I stopped riding, so it hardly even has a season on it. The bike hasn't been ridden hard. The most abuse it's seen has been two days of whistler. I've listed most of the major components below: Stuff that was on the bike when I bought it: Boxxer fork Fox shock Race Face NS craks Truvativ Holzfeller bar/stem Stuff that I have put on it: Avid Code rear brake Avid Juicy front brake WTB rims Bontrager Big Earl tires (hold onto anything) FSA platinum BB Shimano Deore drivetrain (derailleur, chainring, cogs, chain) Chain guide (brand has long worn off) Pedals (sixty)

Sep 23, 2009 at 21:00
Sep 23, 2009

Jul 22, 2009 at 18:11
Jul 22, 2009

Jul 15, 2009 at 14:28
Jul 15, 2009
Load more...
Featured
Photo by freerider333