For me mountain biking has become an obsession, an adventure and a way of life. A big part of that adventure is the people that I meet along the way. Working for the Camp of Champions has brought a lot of people into my biking circle; that is how I met Ron and Jackson Goldstone. Ron introduced himself to me during Crankworx 2011 and asked if it would be possible for Jackson to visit the COC Compound to use the airbag. Ron and I stayed in touch over the winter and during camp 2012 Jackson, Ron and the rest of the family visited several times a week.
The Goldstone family has made biking part of their everyday life and it was great to be around a family who is so involved in biking. The whole family races BMX, Jackson and his sister Bailey attend the DFX Daily Kids Bike programs, they go to Woodward for family vacations, the whole family has been bitten by the same bug that has sunk its teeth into so many of the people in my life.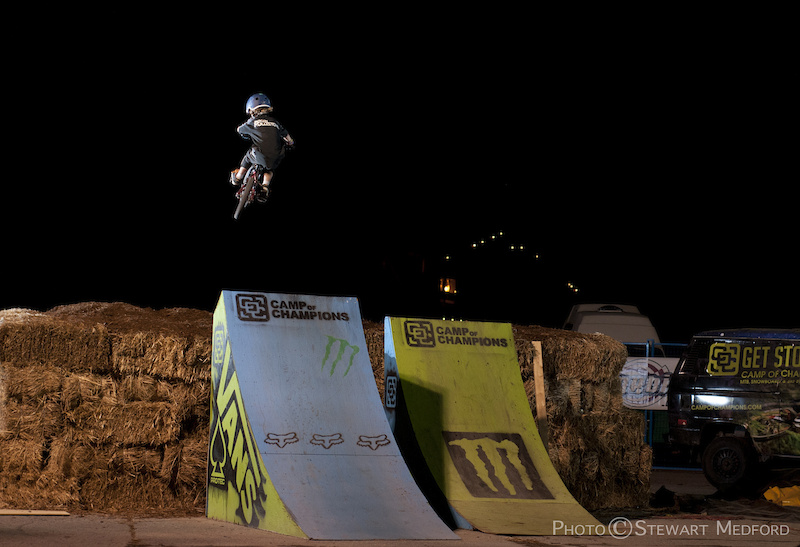 Jackson taking part in a Camp of Champions night shoot.
I had the chance to ride with Ron and Jackson this summer and it was amazing. I followed Jackson down, A-Line, Freight Train, Dirt Merchant and several of the more advanced trails at the Whistler Bike Park. Seeing 8 year old Jackson pedaling hard into a good sized jump (like the big creek gap on Dirt Merchant) and taking flight would make me nervous every time.