AverageAdventurer
Member since Apr 30, 2012

Male / 26
Calgary , Alberta
On a severe budget.
Block user
Recent

Selling
Jan 5, 2022 at 20:54
Jan 5, 2022

Selling
Dec 5, 2021 at 13:57
Dec 5, 2021
$1000 CAD
Hey! Selling my Cane creek helm mkii air. It's at 160mm of travel but I still have the travel reducers. I rode it for the season and it's been amazing, replaced seals at the end of the season. Comes with metallic gold decals installed and a fresh rebuild. Pairs best with a kitsuma but will bring the party to any build you have!

Nov 29, 2021 at 11:03
Nov 29, 2021

Selling
Oct 29, 2021 at 17:45
Oct 29, 2021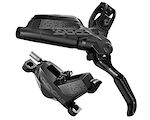 $350 CAD
Selling a set of takeoff Sram Code R's. Never mounted, still in oem packaging, uncut hoses new pads. Excellent upgrade over traditional two pot or smaller four pots like guides and g2s.

Selling
Oct 29, 2021 at 17:32
Oct 29, 2021

Selling
Oct 29, 2021 at 17:12
Oct 29, 2021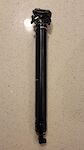 $350 CAD
Selling a takeoff 31.6 bikeyoke revive 2.0 in 185mm. Phenomenal post just moved up to the 210 with shorter crank length. Revive function keeps everything working well and no sag. Easy rebuild with every part available individually will leave you set up for years. Even tough you could put off maintenence for an equally long time.

Oct 24, 2021 at 6:35
Oct 24, 2021

Oct 18, 2021 at 17:14
Oct 18, 2021

Selling
Sep 20, 2021 at 6:54
Sep 20, 2021
$1200 CAD
Selling my 2021 bontrager line pro 30's. The design was updated last year and introduced a dramatically thicker rim wall to shrug off impacts. I'm addition to that a shorter rim height provides a good balance of rim compliance and stiffness. 108 points of engagement through a 2 phase, 6 pawl driven design. Run it with grease for a bit more subdued tone or dumonde oil if you want it to sound like you trapped a banshee in there. These are the wheels that sold me on the durability of the latest batch of carbon hoops. I'm used to tossing my alloy wheels in the stand after a rough weekend and them needing a touch here and there; picked up a new wrinkle in a rock garden etc. These were flawless for the few months I've ridden them, spoke tension barely changed overall ±10 kgf's. I went looking for a reason to hate them and went out of my way to find a crack but nope absolutely resolute. Only selling them because my next bike comes with a set! I can swap it to whatever freehub needed as well.

Selling
Sep 8, 2021 at 13:42
Sep 8, 2021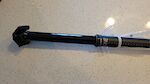 $200 CAD
Lightly used oneup v2 dropper in a 31.6/180mm combo. Can include shipping if desired!
Load more...