Ben2301
Member since Apr 21, 2012

Male / 24
Clitheroe , United Kingdom
Do a wheelie.
Block user
Recent

Selling
Jul 24, 2021 at 10:46
Jul 24, 2021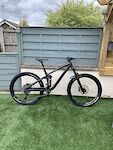 $1800 GBP
Trek Remedy 8 2018 17.5" Bike is in used but overall good condition, it has some minor scratching from bike racks etc (see pictures) and these areas have since been covered in heli-tape to prevent further damage. I purchased the bike from new in feb 2019, so it has had about a years less use than expected for a 2018 bike. Bikes in perfect working order and everything works as it should. Please see pictures of dropper post as there is some wear to the stanchion (the seals on these droppers are naff) but it still works as it should and has been regularly stripped and greased. Frame has been regularly stripped and greased and all bearings etc are in good shape. It has always been thoroughly cleaned and degreased after each ride. The bike is stock apart from the set of minions, nukeproof pedals and the DMR death grips as per specs below The bikes been brilliant and I can't fault it. Only selling as I'm after an upgrade. Any questions feel free to ask, thanks. Ben

Jul 6, 2017 at 0:25
Jul 6, 2017

Jul 26, 2016 at 5:14
Jul 26, 2016

Selling
Jul 23, 2016 at 10:01
Jul 23, 2016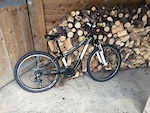 $120 GBP
Specialized Hotrock This is my ad for my Specialized Hotrock 24 Inch 2012 Kids Bike (24 Inch Wheel). It's got 50mm suntour suspension forks, 21 grip shift shimano gears and dependable tektro brakes. The bike has been used but not abused, it has signs of wear such as cable rub, and other slight markings mainly resulting from transportation (rubbing on bike racks and such). Great little kids bike and has been used comfortably around trail centre blue routes and general riding around. Hasn't much if any use in the last year due to the child using it is now capable of riding a full sized frame. ONO

Selling
Dec 18, 2014 at 4:39
Dec 18, 2014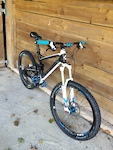 $850 GBP
Hi Medium 18" Cube Stereo for sale 850 or close offers only. Priced for quick sale! Need gone. Running perfect as it's recently had a full new set of frame bearings, a new rear hub body and bearings, new gear cables and a new bottom bracket. Really don't want to part with it as it's my pride and joy but needing a new car forces sale. Owned since February 2013. Hasn't had a lot of use since summer. Has some light cosmetic marks but no dents etc. Pictures where taken after last ride! Specs: Rockshox revelation RLT dual position air adjustable travel fork (120/150mm) Fox RP23 float rear shock Formula RX Brakes Sun Ringle Radium MA wheel set SLX shifters and front derailleur XT rear derailleur Deore Chainset (currently running 2x10) Blackspire c4 bash guard Blackspire stinger chain tensioner Thanks for looking any questions feel free to message me. Ben

Oct 12, 2014 at 9:41
Oct 12, 2014

Selling
Oct 12, 2014 at 9:18
Oct 12, 2014

Jun 18, 2013 at 17:11
Jun 18, 2013

Feb 10, 2013 at 9:51
Feb 10, 2013

Feb 9, 2013 at 9:13
Feb 9, 2013
Load more...
Featured
Photo by Ben2301