BikeKayakSki
Member since Aug 23, 2012

Male / 33
Carlisle , Pennsylvania
Block user
Recent

Selling
Jul 4, 2020 at 16:32
Jul 4, 2020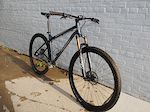 $1150 USD
2015 Transition TransAm 29er size XL. This is a custom build I did for a single speed event I never rode. Faster, lighter, and more fun than it should be. Fox Float 32 Kashima 120mm XT Crankset 32t ring Deore Brakes with 160mm rotors WTB i19 Rims laced to SLX hubs, 20t cassette ring Schwalbe Racing Ralph 2.2 Tires, setup tubeless Raceface cockpit with low rise 35mm bar and 70mm stem WTB Volt Saddle on a Kore Seatpost This is a parts bin/working mans build that is a rip to ride. Never abused but not babied, normal scuffs from not being garage royalty. With pedals, its just over 24lbs. Now $1150. Will ship in the USA only, buyer pays shipping.

Aug 16, 2018 at 4:19
Aug 16, 2018

Selling
Aug 14, 2018 at 9:47
Aug 14, 2018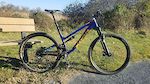 $1600 USD
2016 Process 111 frame with a build kit from a previously owned bike. I bought this frame from another pinkbiker about a year ago and have had a killer time riding it, but its just one to many bikes in the stable so it has to go. Ridden like it was designed to, but never abused. Scratches and scuffs but no dents in frame, rides like a dream. 120mm Pike RC Monarch Rt3 shock SLX 10 speed shifting with a lower level RaceFace crank, 30t narrow wide ring, 11-36 cassette WTB i23 rims laced to Sram hubs Deore brakes with 180mm rotors Maxxis Minion 2.35, DHF front, DHR rear RaceFace cockpit with Oury lockons, 45mm stem, and frame matching WTB Volt saddle. RockShox Reverb 150mm Stealth dropper Bike rips, and I'll be sad to see it go, but I'm just not riding it. Price is for bike + shipping in continental US. Local pickup price is negotiable, international/AK/HI shipping is buyers responsibility.

Apr 9, 2018 at 15:32
Apr 9, 2018

Oct 23, 2017 at 3:08
Oct 23, 2017

Oct 19, 2017 at 8:32
Oct 19, 2017

Oct 19, 2017 at 8:31
Oct 19, 2017
Riding Rigid is Ridiculous - Opinion
I agree with the drooling over gucci high end steel hardtail bit. However inexpensive steel AM hardtails are a hoot, especially with today's flow trails. You can get a lot of bike for at least a grand less going the AM hardtail route too, and depending on your skill level you can get down trails as fast or a bit quicker than an average rider with a full sus enduro rig. Not to mention the serious adaptability to riding loaded for bikepacking, or throwing big ass slicks on for an agressive city bike.

Aug 27, 2017 at 15:40
Aug 27, 2017
Trek 1120 Adventure Bike Has Dedicated Racks
I agree. Hell Kona sells a $1300 27+ steel unit with gears. That's much more reasonable price for a dedicated off road adventure rig. Also, fuck carbon in this context. Can't weld it back together in some random dudes shack in Zimbabwe....or Alabama.

Aug 27, 2017 at 15:35
Aug 27, 2017
Trek 1120 Adventure Bike Has Dedicated Racks
@vinay: For having clearance to run AnythingCages with stuff in them on the front fork. The extra clearance the short headtube provides by moving the downtube higher works great there.

Selling
Aug 1, 2017 at 10:23
Aug 1, 2017
Load more...