DHcamcam
Member since Oct 9, 2010

Male / 28
Spokane , Washington
Block user
Recent

Nov 12, 2021 at 9:36
Nov 12, 2021

Selling
Nov 12, 2021 at 9:31
Nov 12, 2021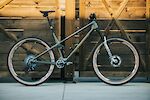 $7500 USD
Hey guys! I have a custom Transition Spur up for grabs. It took me a long time to source all of these parts and the final outcome is amazing. Only reason for selling is I find myself riding my Spire more than anything. So I figured this rig needs to go to a good home. Overall build is less than 3 months old. Build List Spur XL Frame Rockshox Pike Ultimate (lowered to 120mm) Factory SID rear shock SRAM XX1 cranks (not pictured) SRAM AXS Drivetrain SRAM AXS Dropper SEEK MTB Carbon wheels with Onyx Vesper Hubs PRO bar and saddle Industry 9 stem Specialized Soil Searching Tires Shimano XT brakes Ice Tech Rotors Lots of $$ invested into this build. Buyer will be responsible for PayPal / shipping fees.

Selling
Oct 14, 2021 at 14:16
Oct 14, 2021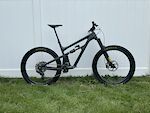 $6500 USD
Hey guys! I have a custom built Yeti SB150 up for grabs. The bike has roughly 20 miles on everything but the wheels (wheels have 1 season prior). The ONLY reason why I'm selling is my Transition Spire has landed, No need for two bikes that do the same thing. Let's get into the build sheet... Yeti SB150 XL Raw Carbon Ohlins RXF 36 fork Sram AXYS Drivetrain Gold XX1 Chain Sram X01 Carbon Cranks XTR Brakes / Rotors SEEK Wheels with Onyx Racing Hubs Maxxis Assigai Front Maxxis Agressor Rear One Up 210mm Post PNW Components Dropper Leaver Ergon Seat. The only "Flaw" the bike has is it has a little rub mark from the tailgate pad on my truck. The frame is protected with clear frame protection. Willing to ship at BUYERS EXPENSE. Also, BUYER MUST COVER PAYPAL FEES. Cheers.

Apr 1, 2021 at 22:46
Apr 1, 2021

Selling
Apr 1, 2021 at 22:37
Apr 1, 2021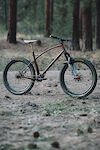 $4000 USD
Hey guys! I have a super rad bike up for grabs. If you're familiar with Adam Sklar's bikes, you'll understand how sweet this rig is. The frame is roughly an XL, and it's setup for either your next bike packing trip, or a single track ripper. Build List Frame: Sklar Pinion XL Fork: Pike ultimate or Sklar rigid Wheels: SEEK 29er carbon / Industry nine hubs Drivetrain: Pinion Gearbox Brakes: SRAM Guides Dropper: Fox Transfer / Wolf tooth lever. Saddle: Brooks Frame bag: Porcelain Rocket Fresh service on the Pinion gearbox. You'll be ready to rip for hundreds of miles. Here's your chance to own a one of a kind bike.

Jan 27, 2021 at 18:18
Jan 27, 2021

Selling
Jan 10, 2021 at 12:30
Jan 10, 2021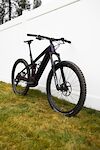 $6000 USD
Hey guys! I have my XL Trek Rail 9.8 up for sale. The bike has new (within the last 30 miles) rear shock service, derailleur, cassette, front ring, chain, rear rotor and pads. The parts that I've upgraded outside of the factory build spec are the Schwalbe Eddy Current tires and Cushcore front and rear, and a Ergon seat. If you're looking to view the full build specs on the Rail 9.8 Check out this link. https://www.vitalmtb.com/product/guide/E-Bikes,111/Trek/Rail-9-8,29265 Buyer is responsible for paying PayPal fees and shipping. Let me know if you have any questions!

Jan 10, 2021 at 12:12
Jan 10, 2021

Apr 23, 2020 at 23:18
Apr 23, 2020

Selling
Apr 23, 2020 at 23:17
Apr 23, 2020
Load more...