Daray
Member since Aug 30, 2018

Online
Male / 35
Savage , Minnesota
Love to MTB- Try new things and make friends on the trail
Block user
Recent

Nov 25, 2020 at 10:43
Nov 25, 2020

Nov 11, 2020 at 17:33
Nov 11, 2020

Selling
Nov 11, 2020 at 17:30
Nov 11, 2020

Nov 10, 2020 at 14:08
Nov 10, 2020

Selling
Nov 10, 2020 at 14:06
Nov 10, 2020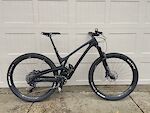 $4600 USD
I bought this in October. Extremely low miles. It is a second bike and I need to sell for other reasons. It is in Mint condition. I cannot find a single scratch on this bike. Bike is stock GX build with i9 enduro wheels and hydra hubs, SRAM GX drivetrain, Rockshox deluxe ultimate rear shock and pike ultimate fork. 4 piston G2 brakes- upgraded enve carbon handlebar. Wtb volt saddle. https://www.evil-bikes.com/a/bikes/following Buyer pays shipping and PayPal fees

Aug 13, 2020 at 16:02
Aug 13, 2020

Aug 13, 2020 at 15:50
Aug 13, 2020

Selling
Aug 13, 2020 at 15:45
Aug 13, 2020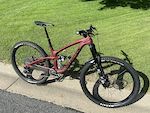 $4200 USD
Sell Pending- Upgraded transition sentinel- carbon X01 build new last fall- perfect working condition- slight cosmetic damage ( paint chips) Upgrades: Push industries eleven six shock 475lb and 500lb coils Push industries ACS3 coil conversion in Fork (green and blue coils) Absolute Black oval chain ring. Will include original dpx2performance elite shock (just had it serviced) and round 30t chainring as well I will also knock off $400 if you don't want the Push Elevensix Shock and only want the DPX2 See photo of full specs Will only sell through PayPal. Buyer pays PayPal fee and shipping.

Sep 12, 2019 at 9:23
Sep 12, 2019

Jul 18, 2019 at 9:44
Jul 18, 2019
Load more...