Desmond1530
Member since Aug 7, 2012

Male / 38
Spokane , Washington
Block user
Recent

Dec 31, 2020 at 13:00
Dec 31, 2020

Selling
Dec 31, 2020 at 12:59
Dec 31, 2020

Dec 6, 2020 at 10:42
Dec 6, 2020

Nov 21, 2020 at 12:27
Nov 21, 2020

Selling
Nov 21, 2020 at 12:03
Nov 21, 2020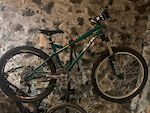 $1500 USD
Evil Sovereign size medium, in metallic green pretty sure its a 2016. 26 or 27.5 niche wheel capability. Adjustable rear dropouts allow for bigger wheels. I listed this in all mountain because its been the perfect park bike. XTR rear derailleur XT everything else. Pike suspension, well cared for. WTB wheels with Bontrager tires. Fork is a Rockshox Pike with U-turn, and it's incredible. Easily one of the best hardtails you'll ever ride, and it's still very sought after for its versatility. I am more than willing to look at offers and partial trades, but my end game is a new Wreckoning, so I'm looking for anything that will assist with that build. It's not just another hard tail, and it's a pricey frame that didn't depreciate, but I'll be glad to negotiate, I'm a nice dude. I'm just a little too big for this bike and though I am in love with this bike, I can't find a large size to save my life. I've been looking for 5 years so I guess it's time let it go. I will ship this bike anywhere in the continental, as well as Canada and UK. It will be your responsibility to understand the cost and time for shipping. Bike will be shipped via bike flights only. I can get measurements upon request. I don't check this site as much as I should I really prefer a text. 5oh9 7oh3 oh4oh2.

Oct 28, 2019 at 13:20
Oct 28, 2019

Selling
Oct 28, 2019 at 13:18
Oct 28, 2019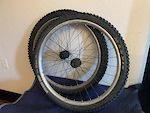 $150 USD
These were built for my gen one Evil Sovereign, Equipped with RockShox Pike. 20mm thru axle hubs, Maxxis Minion DH tires. Willing to ship, inquire with zip for postage. willing to separate tires, and willing to accept trades for a 27.5 wheel set. Text me for serious inquiries, I'm not here much.

Sep 10, 2019 at 18:22
Sep 10, 2019

Sep 5, 2019 at 14:40
Sep 5, 2019

Selling
Sep 5, 2019 at 14:39
Sep 5, 2019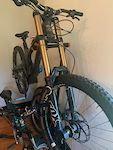 $550 USD
2014 fox factory 40, coming off my evil undead. This was purchased from Mike at Evil in Bellingham in March, so I'm assuming its been well maintained. Only reason I'm selling is because I am switching to a single crown setup. This has a tapered head tube, and was told it will fit a 27.5, but I cannot confirm. Willing to trade for a Fox 36 plus a little cash on top. Will ship at buyers expense.
Load more...