Joedirt13
Member since Mar 9, 2010

Male / 28
London , United Kingdom
I love a good whip, table or roost
Block user
Recent

Dec 5, 2015 at 10:19
Dec 5, 2015

Selling
Dec 5, 2015 at 10:18
Dec 5, 2015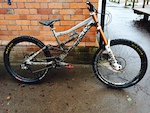 $1400 GBP
For sale is my much much much loved Knolly Podium 2014 in raw. I've had this bike just over 2 years now and it is an absolute ripper. Long, slack, low and lighting quick, this bike was designed with classic bike park geometry and balance in mind. The ride is super stable over rough stuff and slays corners with its long wheelbase and low bottom bracket. The bike excels particularly well through berms with its exceptionally stiff rear end coming in with a 157mm rear spacing which braces the chainstays very well. My favourite terrain to ride on this bike is fast/medium paced technical trails. It is very centrally weighted which gives it good balance over jumps, through corners and also helps the bike pick up over roots and rocks for straight line speed. The rear end is not on the super short side unlike some bikes in this category. The lengthy rear end combined with the centrally weighed shock design allows for the bike to stay very stable and track well as well as throw the bike around at high speed maintaining traction. The frame itself which is the soul of the bike is in fantastic form. Bearings are all as smooth as silk. Knolly uses German INA bearings instead of most normal roller bearings to ensure longevity and maintain performance. All knolly owners will tell you these frames are bombproof rigs that are designed to be ridden with the elements. The specs are as follows: Frame- Knolly Podium 2014 in raw (large) Shock- NEW fox van rc (DHX 5.0 can be included in sale price if desired) Fork - Marzocchi 888 RC3 evo (medium spring) Wheels - Mavic Ex721 (DT Swiss spokes) Hubs- Hope Pro 2 Evo Brakes- Avid elixir 7 front and Hope M4 mono rear (for extra stopping power) Crankset- Shimano Zee with BRAND NEW bottom bracket installed Chainguide - e13 (unsure of model) Tyres - Maxxis High roller 2 upfront with a minion DHF on the rear (both dual ply with exo shell, Medium compound) Bars -Truvativ Boobar 780mm Stem- Straitline direct mount Grips -ODI ruffian I am open to reasonable offers, if you are interested in the build please message me on here or text my number and i will be happy to discuss the bikes condition and quality. These frames are exceptionally rare over here and always turn heads at whichever bike park you ride. I would like to sell this to an intermediate/advanced rider who can really feel the benefits of this bike and who will love and ride this bike as much as i have loved and ridden it. Hope to hear from you, Many thanks, Joe.

Oct 26, 2014 at 1:47
Oct 26, 2014

Added 1 video
Jun 19, 2014 at 16:45
Jun 19, 2014

Added 1 video
Sep 14, 2013 at 4:17
Sep 14, 2013

Jul 17, 2013 at 14:44
Jul 17, 2013

Selling
Jul 15, 2013 at 15:39
Jul 15, 2013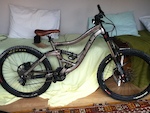 $850 GBP
For sale is my much loved specialized big hit, been ridden for the past 3 years but is still in excellent condition. The bike has been upgraded in all the necessary areas and stills runs like a beast! I pretty much built the bike with durability in mind! Equipped with Marzocchi 66 ti forks which suck up any big hits and small bumps which have been used for 2 years (1 year left on the service warranty). The Van R shock on the rear has never been serviced and is as smooth as it was in the beginning, still subtle enough for most full on DH trails. The Hope Pro 2 rear hub is as tough as nails, stills runs smooth with no play in the bearings. The frame is still in good condition although the paint has been rubbed and chipped pretty much all over but because the frame is silver the chips don't stick out too much. Frame size is a medium. The only component that would possibly need an upgrade on the bike would be the chain guide. The bike has served me extremely well in whistler and morzine, with the short chainstay it ensures a playful ride. Great bike park bike. This bike is the perfect bike for any beginner to intermediate downhillers or freerider. Any questions please ask Cheers Joe

Jul 14, 2013 at 4:16
Jul 14, 2013

Selling
Jul 11, 2013 at 6:55
Jul 11, 2013

Jul 11, 2013 at 6:47
Jul 11, 2013
Load more...