LTmtb
Member since Sep 12, 2010

O+
Male / 27
Davis , California
I love building, shooting/filming, and almost anything on two wheels, but shuttling/lifts are the best!
Block user
Recent

Dec 7, 2018 at 0:53
Dec 7, 2018
Throwback Thursday: McCaul & Semenuk's Iconic Life Cycles Section
Life Cycles is still the first thing that comes to mind whenever anyone asks me my favorite movie. I wrote an entire essay on it for a high school film class. It's incredible how it can strike a cord for everyone who sees it, not just mountain bikers. I don't know if we'll ever get another bike movie that can be that inspirational even for people who don't know anything about bikes. Now I have to rewatch the rest of the movie soon!

Selling
Sep 26, 2018 at 14:30
Sep 26, 2018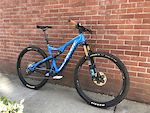 $2400 USD
Large 2017 Pivot Mach 429 Trail XT/XTR Pro 1x. Bought new in April 2017 and ridden sparingly. I go to school in Davis and it's hard to get to get out to the trails. The bike is in excellent condition. The only real signs of wear are the crank strikes and a little shuttle rub on the downtube. Pivot did an incredible job with this build! I didn't want to change a single thing when I bought it and I loved the stock build the entire time I had it. Highlights include: Fox Factory suspension (130mm front and 116mm rear) XTR derailleur XT brakes DT Swiss M1700 wheels Fox Transfer dropper post Info from Pivot: https://www.pivotcycles.com/en/bike-mach-429-trail-carbon-1#details Complete specs: https://www.competitivecyclist.com/pivot-mach-429-trail-carbon-27.5-pro-xt-xtr-1x-complete-mountain-bike-2018?ti=TkFXaWRnZXQ6TmV3IEFycml2YWxzOjE6Mzo= This is the best trail bike I've ever owned and it truly defies categories - it's a damn fun mountain bike in plenty of situations and trying to over-classify it detracts from that. The roll-over of the big wheels combined with playful geometry and snappy suspension make for a grin-inducing package. It climbs just as easily and efficiently as you would expect from a light, 4.5" travel, 29er. The bike is also a ton of fun on descents. It begs riders to find fun lines and squeeze the most out of them. I'm selling my Pivot because I've gotten back into more gravity-oriented riding and I don't really have the space for it in my bedroom with my other bikes. Pedals not included. The bike will come with black ODI grips that only have a couple rides on them instead of the Sensus grips pictured. Please text me for the fastest response. I would prefer to keep the sale local but will consider shipping for the right buyer.

May 30, 2018 at 11:02
May 30, 2018

Selling
Mar 22, 2017 at 13:00
Mar 22, 2017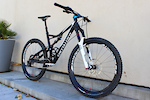 $2100 USD
From Specialized: "If you go hard and have a playful style, you're going to love the nimble ride of our Stumpjumper . . . with an X1 setup, plus a 150mm Pike RC fork that complements a snappy, trail-eating geometry." Specialized completely redid the Stumpjumper in 2016 to make it the ultimate trail bike. If you approach riding like I do, wanting to have the most fun on the downhill and suffering the least on the uphill, this bike strikes the perfect balance. It's fast, sharp, capable, and playful going up and down all kinds of terrain. Key Specs: SRAM X1 drivetrain Shimano SLX brakes RockShox Pike RC fork Fox Float Factory CTD shock w/ AUTOSAG Specialized wheels, tires, dropper post Bike will be sold stock except: Deity Dirty30 handlebars - 760mm length, 25mm, 9 degree bend x 5 degree upsweep, 31.8mm clamping diameter Choice of stems: 50mm Deity Cavity (extra $), 70mm Specialized, 70mm Kona, 90mm Giant. Sensus Disisdaboss grips Set up tubeless Pedals and bottle cage not included Bike has some minor cosmetic damage (pictured). There are a couple loose spokes on the rear wheel. I recently discovered that I bent the seat rail. I would be happy to include one of the random old saddles I have laying around but I would expect the buyer to want something newer and more in line with the build of the rest of the bike. Thank you for looking! - Liam

Selling
Oct 3, 2016 at 17:47
Oct 3, 2016

Jun 7, 2016 at 21:17
Jun 7, 2016
Deity: New Digs in Idaho
By far my favorite bike brand in this crazy industry. Since buying my first pair of Deity bars 5 years ago nothing else has felt quite right. Thank you for continually progressing our sport, bleeding style, and staying true to your rock solid values. Can't wait for the giddiness of throwing some new Deity on my next build.

Selling
Apr 21, 2016 at 22:02
Apr 21, 2016

Feb 9, 2016 at 12:29
Feb 9, 2016

Selling
Dec 22, 2015 at 20:51
Dec 22, 2015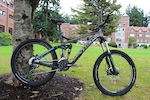 $1000 USD
This bike has just been sitting for almost four months. The low price reflects my desire for it to find a new home. I bought this bike new in February 2013 and barely rode it my freshman year of college (last year) so it has less than two years worth of riding on it. The Slash is Trek's longest travel bike below a full on DH bike so it's an absolute blast on descents and will still get you uphill without complaining. I have raced everything from XC to Super D to Sea Otter DH on this bike and it makes a great burly all arounder. The bike is in great shape, brakes work super well (although I will still include brand new pads), and it has brand new front derailleur cable and housing. The only issues are that there a few cosmetic imperfections in the frame (mostly from shuttling) and the bottom bracket makes some noise. I have kept the bike mostly stock except for the following upgrades: Spank Spike pedals e*thirteen TRS+ Dual (chain) Guide Continental Trail King 2.4 tires SRAM X9 Type 2 long cage rear derailleur Brand new Specialized 70mm stem AND used Easton E70 85mm stem WTB Dual Duty rear wheel Here's what Trek has to say: http://www.trekbikes.com/us/en/bikes/2012/archive/trek/slash_7/#/us/en/archive-model/details?url=us/en/bikes/2012/archive/trek/slash_7

Selling
Dec 9, 2015 at 13:25
Dec 9, 2015
Load more...
Featured
Video by LTmtb