Loïc Bruni
Born on 13th May 1994
Cadet (15/16 yrs old) French Champion 2010
"I'm only 17 but already MTB riding for a long time, not only in downhill. I also did some XC and BMX. I love doing BMX, I like moto riding but I don't do that much and during winter there I go skiing. Other sports don't interest me so much, except if it stays in the "extrem sport" category. In my garage you'll find an XC bike, an enduro bike, a bmx which I use the most with the DH bike, and also my motorbike go in town. My training program is not too heavy. I'm still going to school so riding is not my full time job! In a classical week of training I have 3X BMX, 2X gym and 1X DH. Rest period is part of the training also! In 2009 I performed my first national Top10 with Elite Men, and in 2010 I finished 3rd at the DH French Cup overall.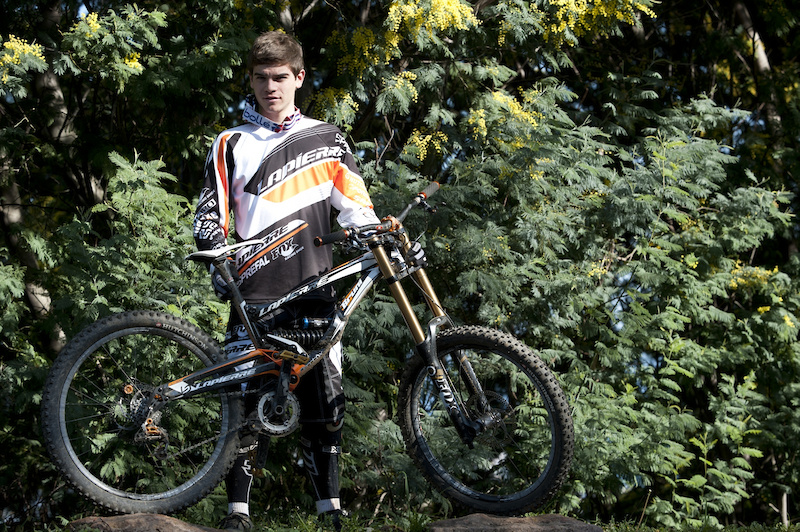 photo: droz-photo.com/pureagency.fr
My best memories were during the 1st French Cup in Lac Blanc in 2010, the track was awesome and I had a very nice run, quick and proper. I tried to get back these feeling all season long before each run - a combination of speed and very good feeling. I've never had any big injuries until now. A few little ones, but in France it is compulsory to ride with protectors, it helps.
I never change my habits before a race. Usually I stay on races with my team, most of the time without girls, so for the meal it's either pasta or pizza! It's also common to go and grab Mcdonalds just before a race, or go to bed late because we're being a bit crazy . My race calendar is based on the French cups and some enduro races. I will discover the world cup this year, but will ride only the european rounds. I define my calendar during winter with the team and my family of course.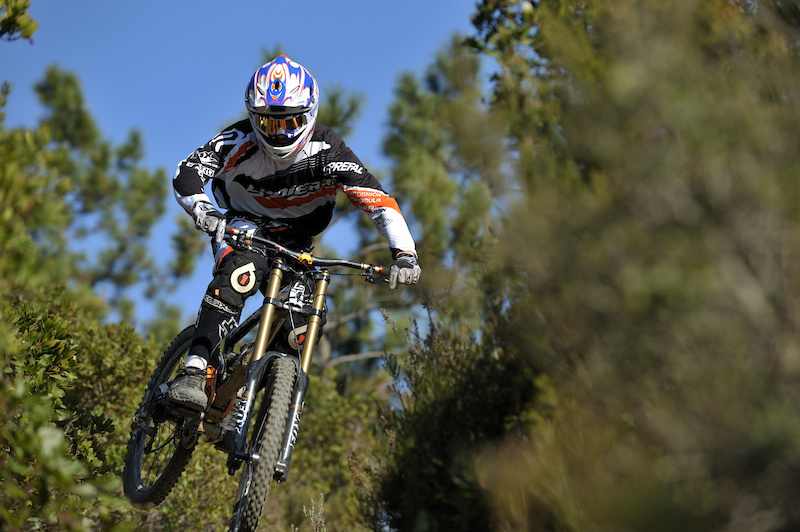 photo: droz-photo.com/pureagency.fr
It's the 1st year for me in Lapierre International and Fox suspensions, I'm really glad to ride with such nice material. We work a lot with Jack Racing for all the settings and I'm really satisfied with how it works. Christopher, the Swiss mechanic has welcomed me and we have lots of great races to come, and I hope good results too.
Everything is good to me in a pro rider's life. I would love to go riding every day and live from that. When I see Nico Vouilloz or Fabien Barel, I think they take the maximum from their passion of the bike and they are at the top level for so many years. On another hand, in France studies are very important and unfortunately people don't believe enough in extreme sports, so school stay important and I have to compose my schedule with school and riding.
What makes the difference between a pro-rider and me? First it's the age! Then speed and experience. And also the number of trainings in a week..If I don't become a pro-rider, I'd like to work in a bike shop, work on DH tracks in a station or be a chef. Best thing in becoming a pro-rider is to travel, ride in the best spots in the world and just enjoying this everyday!
One bit of advice? Just have fun by riding, keep a clean attitude, get inspired by the best riders, have ambition and give your best, even during a difficult moment! "
photo: droz-photo.com/pureagency.fr
Teammate Nico Vouilloz on Loïc:
"Loïc is impressive for his age, and progressing regularly each year, passing step by step. I 've know him for a long time because I ride with his Dad. He's been competing since a young age so is a real passionate guy! He's really motivated to be a part of a great team like Lapierre International at 17 years old. Sam Blenkinsop is his idol!
On the track he has a good riding style and is going faster and faster. On some tracks, no way to drop him anymore! He is 1st year Junior and has no world level experience for the moment so it's hard to say, but he should be able to compete with the top juniors! He also has a good mentality, not too stressed, but still putting a little bit of pressure on his shoulders for his 1st world cup season. We told him "No pressure, just get the feeling of the world cup and do your best". When there was the possibility to get him in the team I told the Lapierre staff: "Go ahead!". Moreover he is in a good generation of young french riders, which makes them constantly progressing together."