PinkyScar
Member since Jul 30, 2008

Male / 43
Calgary , Alberta
Block user
Recent

Jun 2, 2022 at 12:52
Jun 2, 2022

Selling
Jun 2, 2022 at 12:50
Jun 2, 2022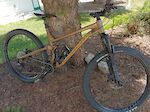 $2900 CAD
Excellent condition, like new, Fully tuned spring 2022, maintained throughout. Bought this to ride local trails - really fun all-around trail bike w. modern geometry. XT/SLX 12 speed, Pike Select 130mm/Deluxe Select 120mm travel, 170mm dropper post. Full spec here: https://www.norco.com/bike-archives/2020/fluid-fs-1/ Upgrades/changes Wheels are tubeless (Stan's sealant) TRP Stainless/alu 180mm rear rotor Kool Stop Sintered brake pads f+r New Specialized grips Pedals not included. Happy to answer any questions you may have.:)

Oct 20, 2021 at 15:39
Oct 20, 2021

Oct 16, 2021 at 9:50
Oct 16, 2021

Sep 7, 2021 at 19:26
Sep 7, 2021

Selling
May 22, 2021 at 16:27
May 22, 2021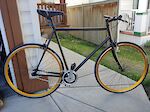 $400 CAD
60cm single speed /fixie. Fits 5'10-6'3" best. Excellent condition, like new. -Stealthy unbranded Taiwan steel frame and threadless chromoly fork -Sealed cartridge headset and bottom bracket -Polished aluminum crank and ring -KMC painted chain, 46 X 16 gearing, adjustable chain tugs -Tektro levers and calipers (installed). Freewheel mode. -Alloy flip-flop hub, stainless black anodized spokes and quality aluminum rims, 25c tires. -Aluminum 25.4 alloy bar, threadless stem, and seatpost. Thanks for reading.

Selling
Jul 11, 2020 at 21:30
Jul 11, 2020
$400 CAD
Mid 90s Rocky Mountain Thunderbolt frame, handmade fillet brazed by Bill B. Frame and paint in great shape overall. I rode it a handful of times before deciding it was way too small for me (I'm 6"3') and it's been hung up ever since. I was smitten with sloping top tubes at the time, a la Brodie and Kona, and couldn't resist. Happy to discuss price/condition further and answer any questions if this frame/complete bike is of interest. Thanks for reading.

Selling
Jun 8, 2020 at 14:46
Jun 8, 2020
$600 CAD
Custom Reynolds 853 chromoly frame from Soulcraft Bikes based in Petaluma CA. 20.5" seat tube length, centre to top (sloping frame). http://www.mountainflyer.com/view.php/profile-soulcraft.html. If you're still reading, you've probably knew this bike from the early 2000s. http://soulcraftbikes.com/bikes/option-3/. I've always been too attached to let it go, but it's time for someone else to make a project out of it, and ride it again. It's been in my wall since 2003. It is in excellent condition, and probably ridden off road less than 10 times when it was complete. There's a somewhat sentimental story behind the frame and how I got it, which I'm happy to share if you decide you want the bike. Rear is v-brake only, but Salsa fork has disc and canti post. The bike used to have suspension, but the Salsa fork suits it better in this modern era. Or put a 100-120mm 1 1/8 steerer fork and ride it that way. Seatpost is 27.2. If you want a "rolling chassis" the rear wheel has a mint XTR hub w. anno Mavic 117 rim and Revolution spokes, the front is XT disc with a Mavic 317 anno disc rim and black competition spokes. Both are in very good shape, hubs are excellent. I also have a set of Paul Component single speed hubs laced to Bontrager rims if that strikes your fancy. Make me a reasonable offer, happy to negotiate. If you want more measurements from the bike, just ask. Thanks for reading.

Selling
Jun 6, 2020 at 15:47
Jun 6, 2020

Selling
Jun 6, 2020 at 15:47
Jun 6, 2020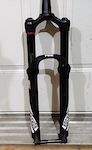 $500 CAD
RS Pike RCT3 140mm, like new. This link has the full spec: trailhead.rockshox.com/en/specs/29T74741741 Purchased 2018, used in 2019, less than 30 hours ride time. Used to upgrade a 130mm bike I used on a 2 week trip to the US. Compatible with 100mm hub (aka, not boost). I have a new sealed bearing hub if you need it to build a wheel to fit the fork. Long 210mm steerer to accommodate a tall bar position/any XL bike, but it can be cut to the size you need if required. Standard 51mm offset. No scratches or damage anywhere. Looks/feels as new. I have extra stickers (black) and the original box. Let me know if you have any questions.
Load more...