Rider-TJones
Member since Jan 15, 2013

Male / 26
Vail , Colorado
Block user
Recent

Aug 11, 2020 at 14:32
Aug 11, 2020

Selling
Aug 11, 2020 at 14:23
Aug 11, 2020
$4100 USD
For sale is my Specialized Stumpjumper St 29 Expert. The bike is mostly stock, with the exception of tires and upgraded brakes. About 2 months ago I swapped the brakes to G2 RSCs and they have made the bike a lot better. Pictured for tires are 2.6" Eliminators, but I put on 2.3" brand new tires 10 minutes before posting this ad. The bike is in excellent condition. It is hand washed with a squirt bottle after most rides, never hosed. Minimal scratching on the frame. Components and suspension are in good shape. Hubs could probably use new bearings next season. SWAT compartment is clutch for every ride. Feel free to send questions. Garmin and mount, pedals, and fender not included in sale. Bottle cage and tool will be included. Buyer pays shipping and insurance. Cash or Paypal only Cheers! Link to bike from Specialized: https://www.specialized.com/us/en/mens-stumpjumper-st-expert-29/p/154271?color=261176-154271&searchText=93218-3704

Aug 5, 2020 at 8:07
Aug 5, 2020

Selling
Jul 28, 2020 at 16:38
Jul 28, 2020
$3650 USD
For sale is my girlfriends incredibly lightly used 2017 Santa Cruz Hightower C. She got it brand new from a shop, and coming from a road background, has never needed the capabilities it offers. Being happy on mostly greens and some blue trails, we are listing it for sale in order to get something more practical for her. This bike is fully stock, even down to the tires which still have life in them. The rear shock was serviced locally 2 months ago and at the same time the reverb was sent to Rockshox for a complete rebuild. The brake pads were replaced recently, front and rear, and only have two rides on them since. The bike is stock with a Rockshox Pike fork, GX 11spd drivetrain, and Guide R brakes. It's a solid build. Frame is full carbon and wheels are straight. Pedals and bottle cage not included Paypal or Cash only Buyer pays shipping and insurance Send any questions, thanks!

Jul 27, 2020 at 19:59
Jul 27, 2020
Welcome to the 2020 Pinkbike Field Test - Cross-Country Bike Edition
@RadBartTaylor: That is valid. For all of those elite disciplines, they still use the same kind of bike. See a lot of hardtails in eliminator, a mix in XCO(which dictates what is raced in short track otherwise you'd see more hardtails there), and a descent mix, leaning towards majority hardtails, in Marathon. At an amateur level you see every kind of bike on every kind of course. There's still too many categories of bikes. Also regarding the earlier stuff, a better comparison is freeride vs dh. Not sure why it was enduro vs dh. Being done with that, what do you mean by "fat tires"? Think size is becoming less of a thing and tread is becoming more of the dictator. Nino runs 2.4" tires but minimal tread and then trail bikes run 2.4" tires with more tread. 2.3" is pretty common in XC now as far as size goes, but still minimal tread. No one(elite level) is breaking out burly tires on their XC bikes(in races, with the rare exceptions like BCBR). Also, I am coming at this conversation with the mindset/objective of XC being in the context of Elite level. Amateur racing, run what you got. The best tool, is the one you have, hopefully. DH racers, enduro racers, xc racers etc all approach their craft with an objective mindset, running what is fastest regardless of what everyone else thinks. I know we've seen remote lockouts and droppers in DH WC racing

Jul 27, 2020 at 11:48
Jul 27, 2020

Selling
Jul 8, 2020 at 10:24
Jul 8, 2020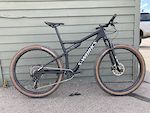 $4199 USD
For sale is a 2020 Specialized Epic, size Large. This bike is a combination of an Epic Pro, Epic HT Expert, and Sworks. Frame is BRAND NEW. Never even ridden. Bottom bracket is also new. Suspension and brakes come from an Epic Pro with 1 season of use. Drivetrain and cockpit come from an Epic HT Expert with only 1 month of use. Full breakdown below. More pictures to come. Feel free to ask questions. I will entertain offers for frame only but be reasonable. Buyer pays shipping and insurance. Paypal or cash only. Local pickup okay. Thanks! Frame: Brand new 2020 Sworks with new bottom bracket Suspension: Rockshox SID Brain and Brain Rear (comes off a 2020 Epic Pro with about 6 months of riding) Brakes: Sram TLM with plenty of pad life left (comes from 2020 Epic Pro) Drivetrain: Full GX 12 spd 10-50 with a 32t chainring (comes from 2020/2021 Epic HT. 5 weeks of use, pretty darn fresh!) Post, bars, stem: Alloy. Uncut. Bars are 750mm, stem is 80 I believe. (Mix from Epic HT and Epic Pro) Wheels: Option! #1: Bike is photographed with some 2017ish Roval Traverse SLs(the light sweet trail ones. Rear rim was replaced last summer) 30mm internals, true, strong #2: Roval Control Carbon (non-SL). These are coming off the Epic HT BUT have never seen singletrack. They have gravel tires on them and have been lightly used for 5 weeks of road riding and a couple gravel roads, meaning this wheelset is pretty much new! 25mm internals, true. Tires, grips, saddle: Tires have some life but need to be replaced soon. Selling as is because everyones preference and location is different. Same with grips and saddle. No bottle cages, tools, mounts, pedals, etc. Thanks!

Jul 8, 2020 at 9:56
Jul 8, 2020

Selling
Jun 14, 2020 at 20:48
Jun 14, 2020

Selling
May 15, 2020 at 11:31
May 15, 2020
$2000 USD
For sale is my 2017 Santa Cruz Stigmata size 56. This bike has been awesome and has been one of my most used bikes, ever. It has seen snow, mud, pavement, singletrack, etc and has never let me down. I honestly don't think it has ever even dropped a chain. Bittersweet as a new bike is on the horizon, I have to let one go. This bike has been used extensively. That said, the frame definitely is worn. There is no damage from crashes, abuse, or anything of that type. All marks are wear and tear. The frame is in perfect shape structurally and good shape cosmetically. I have tape all over the frame to try to minimize wear from fenders, bar bags, etc. It helped a lot but sometimes wasn't perfect. In the pictures you can see where a fender rubbed the paint off of the inside of both seatstays and off the seattube itself. The carbon is not damaged, just missing paint. There are a few paint chips here and there from rocks flying up and hitting the frame. The bike is mostly stock, CX1 Force with Easton SL90 cranks. Overall the bike is super light given how capable it is. I purchased an XD driver body for the stock wheels and have been running a 10-42t cassette with a 42 front chainring. Included in the sale will be the stock driver body, cassette, and chain. I believe the chain and cassette still have some life but I took them off over 2 years ago and honestly don't remember. For tires I am running 38c Specialized Pathfinders which I have been incredibly happy with! I painted some bottle cages to match the tires and frame and those will be included in the sell. Also included will be a pair of fenders from SKS Germany that work with the 38c tires. They are awesome for winter riding. Seatbag, pedals, garmin mount, and cadence sensor will NOT be included. The drivetrain still has some life on it. I probably wouldn't change it for another couple of months personally but since that is on the horizon and people have different standards, I am factoring that into the asking price of the bike. The bike was never hosed down, always cleaned with a squirt bottle filled with water and a rag. Wheels are straight and have never gone out of true and brake pads still have a fair amount of life. As always, with a used carbon bike there is no manufacture warranty for the buyer. Please feel free to ask any questions. Buyer pays shipping and shipping issurance Paypal only or cash if buying locally
Load more...