TC-35
Member since Mar 15, 2012

Male / 38
Kirkcaldy , Scotland
Block user
Recent

Nov 2, 2017 at 14:00
Nov 2, 2017

Selling
Nov 2, 2017 at 13:59
Nov 2, 2017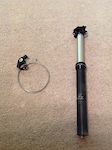 $150 GBP
For sale is my KS LEV 125mm drop stealth post with remote lever. Selling as I am splitting my old bike. The post has been great and has no issues, it is in perfect condition, no leaks etc and it was serviced by Flotec in March. I can get the receipt for the buyer. Any questions just ask. Thanks

Nov 2, 2017 at 13:46
Nov 2, 2017

Selling
Nov 2, 2017 at 13:43
Nov 2, 2017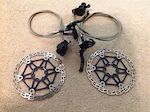 $250 GBP
For sales is a set front and rear Hope tech3 e4 brakes with 183mm floating rotors. A few superficial marks on levers but overall in excellent condition. They are fitted with braided lines and the rear will need bled through again as i removed the caliper as the hose was routed through the frame. An excellent set of brakes that I would have taken over to my new bike but it came with Hope e4's already so have to sell these as I am splitting my old bike. Looking for £250 which I think is very fair considering the rotors are included too. Any questions just ask.

Oct 2, 2017 at 14:01
Oct 2, 2017

Selling
Oct 2, 2017 at 13:56
Oct 2, 2017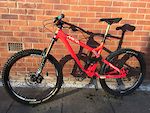 $1700 GBP
For sale is my 2014 Commencal Meta SX in medium. Wheel size is 26". I bought it new in 2014 and have had a great time with it, a trusty and very capable bike but now surplus to requirements. The spec is: Fox 34 Kashima forks, Fox float shock. KS LEV seat post. The forks, shock and post were all serviced by Flotec at the start of the year, I can get the receipt on request. Hope enduro wheel set, tubeless Magic Mary on front and Maxxis high roller on rear. I will include the standard wheels in the sale. Hope V4 brakes including floating rotors, excellent stopping power with great modulation. Renthal carbon fat bars. ODI TLD grips. SDG saddle. RaceFace cranks. Shimano Zee shifter and rear mech. 1x 10 set up. Hope 32T narrow wide retainer ring on front. Bike will come with RaceFace Atlas pedals. Carbon downtube protector and I will include a carbon short front mudguard too. The bike is in perfect working order and has been maintained properly, new cables and chain a few months ago. There is a slight amount of play in the bottom bracket but I will include a new one in the sale. I have priced the bike reasonably to reflect the high quality parts that I have fitted. Any question just ask.

Selling
Oct 2, 2017 at 11:46
Oct 2, 2017

Feb 12, 2017 at 16:07
Feb 12, 2017

Jan 27, 2017 at 13:22
Jan 27, 2017

Selling
Jan 2, 2016 at 7:50
Jan 2, 2016
$1800 GBP
Santa Cruz Bicycles Carbon V10 with carbon rear triangle in size Large For sale is my V10 downhill bike. I bought this bike approximately one year ago from a BDS racer and raced the first few rounds of the Scottish Downhill Series then a handful of uplift days at Innerleithen since. It has been maintained to a high standard and is in great condition with a few uplift marks, mainly on the fork lowers but the sliders are fine and the frame is fitted with Invisiframe. This is a very reluctant sale but as I have 2 bikes that are barely used and have other commitments it has to go. Size large frame will accommodate most build sizes. With minor tweaks to bar height, stack or width the feel of the bikes size changes a lot. The previous owner had 800mm bars with the stem set at 50mm and a high rise top crown as he was over 6ft, I am 5' 7" so I put shorter bars, standard crown and set the stem to 40mm (it can also be set to 45mm) and it fits me perfectly. Most of the reviews I read said the medium size came up a bit small, so I went for the large and it was the right choice. Here is the spec. Rock Shox Boxxer RC2/Team Coil Sprung (Soft, Medium, Firm and Extra Firm Springs included) Rock Shox Vivid Rear shock 450lbs Spring, 380 & 400 springs included. Hope Pro 2 (Santa Cruz Etched Hubs) Hand built onto Stans Flow Ex rims 32h Maxxis Shorty front and Minion rear currently fitted, also included is a set of nearly new Maxxis Swampthing mud tyres. Work Components -1Degree Angle Set Renthal low rise bars (not the Burgtec as in picture) Thomson Direct Mount Stem 40, 45 & 50mm reach Avid X.0 Trail Brake Front and Rear, pads have lots of wear left and brakes are bled Avid G3 203mm Front and Rear Truvativ Descendant 170mm Cranks Sram X0 10speed Shifter Sram X0 10speed Type 2 Rear Mech Silver Sram X0 10speed Chain 1071 Sram X0 10speed Rear cassette Gamut USA P30 Chain Guide with All black guides (Very good condition Bash Ring) Gamut 36th Chain ring SDA I-Fly Seat and Seat Post May be able to include a set of 2015 black Crank Brothers Mallet DH pedals if the price is met. Included is a Santa Cruz grease gun and grease. Price drop from £2200 to £1800 as it is sat doing nothing, must sell. I may split the frame and parts if necessary. Please feel free to contact me on 07846464781 or by message to discuss the bike.
Load more...