ajBoogaloo
Member since Jan 15, 2014

Male / 46
Pittsburgh , Pennsylvania
Block user
Recent

Mar 9, 2022 at 9:35
Mar 9, 2022

Jan 27, 2022 at 5:55
Jan 27, 2022

Jan 6, 2022 at 7:26
Jan 6, 2022

Selling
Jan 6, 2022 at 7:26
Jan 6, 2022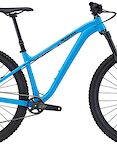 $600 USD
Totally tardy here — just found out that Kona put sliders on these, so I'm hoping to buy a 2022 Honzo DL frame (aluminum). I'd be happy to purchase outright, or trade my excellent condition 2020 Marin Alcatraz for the Honzo frame + parts or cash. Thanks for reading.

Aug 13, 2020 at 12:53
Aug 13, 2020

Selling
Aug 13, 2020 at 12:53
Aug 13, 2020

Sep 20, 2018 at 8:18
Sep 20, 2018
Video: A Portrait of Damien Oton That Goes Beyond the EWS
Looks like the Thule one. If so, it's solid. I put one on the front of my Remedy and took my dude all over double-track trails when he was too small to ride a Strider. Both of us loved it. One good thing is that the seat detaches from a bracket on the steerer, so you can easily take it on and off. Also, it's kinda hilarious, but a ~140mm full squish with a dropper is perfect for one of these seats. It keeps the jitters down, lets you get in some decent miles with the kid laughing, and you can easily maneuver/dismount with the seat out of the way.

Jul 26, 2018 at 12:02
Jul 26, 2018

Jul 18, 2018 at 7:49
Jul 18, 2018

Jun 18, 2018 at 11:28
Jun 18, 2018
Load more...