bikerguy222
Member since Apr 28, 2010

O+
Male / 27
Danville , California
I enjoy riding two and four wheeled doohickies and playing with cameras.
Block user
Recent

Selling
Oct 24, 2018 at 15:40
Oct 24, 2018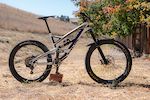 $2500 USD
The build: - 2015 YT Capra Carbon Fiber (L) - DT Swiss XMC 1200 Carbon Fiber Wheelset (~$2,000 new) - SRAM XO 1x11 - Rock Shox Lyrik fork - Rock Shox R2C with 350LB coil - Rock Shox Reverb post (comes with an extra) - Renthal Fatbars - SRAM Guide RS brakes - Nukeproof Horizon Trail pedals (SPD compatible) Video Tour: https://youtu.be/XyGbyTimZxo This Capra has the average amount of wear and tear for being 3 years old. I've always done basic maintenance. I am the second owner and the original owner only rode it 4-5 times (it was considered new when I bought it). I have only ridden it a handful of times since I am so busy these days. All scratches on the down-tube are from rubbing on a shuttling pad and there's a clear plastic coat protecting the frame. There are two small issues: 1. The Reverb post could use a rebuild, but I am including an extra post for free that supposedly works (the previous owner gave it to me but I never used it since the current post works 95% fine). Also, some pivots could use replacing soon, as the Capra is known for having this problem. That being said, it doesn't effect riding at all, and it's personal preference if you want to replace them. The small amount of "play" doesn't bother me at all. Thanks for your time!

Selling
Oct 24, 2018 at 14:59
Oct 24, 2018

Jan 24, 2018 at 13:02
Jan 24, 2018

Selling
Jan 24, 2018 at 12:59
Jan 24, 2018

May 11, 2017 at 12:15
May 11, 2017

Jun 2, 2016 at 15:46
Jun 2, 2016

Jun 1, 2016 at 13:38
Jun 1, 2016

May 17, 2016 at 14:14
May 17, 2016

May 13, 2016 at 13:10
May 13, 2016

Apr 24, 2016 at 14:13
Apr 24, 2016
TDS Enduro 2016
@rewob: that's me in the background filming... as long as you're covered up you're good! I didn't get any oak. It's well worth these trails.
Load more...