c-willsey
Member since Jun 3, 2010

Male / 25
Boulder , Colorado
Block user
Recent

Sep 2, 2022 at 15:47
Sep 2, 2022

Selling
Aug 9, 2022 at 7:29
Aug 9, 2022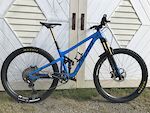 $4799 USD
Selling my absolutely mint 2021 Pivot Switchblade. This is the Pro XT/XTR model with some upgrades. It has been ridden as a second bike and always extremely well cared for, fewer than a ten days in a bike park, never crashed, and in truly fantastic condition. The frame is awesome, a couple very small paint chips under the BB, and one above the DS seatstay/link junction, as pictured.. All are hardly noticeable and are cosmetic only. Otherwise, almost no imperfections on the frame. Components are all in great condition and work perfectly. Suspension was serviced and rebuilt at the end of last season, drivetrain is great with plenty of life, and the XT brakes (203mm rotors front and rear) feel like you're smacking into the side of a brick wall when you pull those coward hooks. Even as a neat-freak and someone who obsessively cleans their bike whenever it's dirty, I am very happy with the condition of this bike and I know you will be too! It's been ridden, so there's some wear on the usual places as you would expect. As I mentioned I made a couple of upgrades. I went to new 203mm rotors front and rear, and new finless (read as quiet) Saint metallic pads. One Up's 35mm rise carbon bar, cut to 760mm, there is a scratch on top, not very easily seen and cosmetic. Small Fox fender so I wouldn't get made fun of in the parking lot by the enduro bros. I will be hanging onto my pedals, bottle cage, and seat unless you want to discuss those. Open to being flexible. Please inquire for a video of the bike shifting and braking if you're interested. Full Specs: Frame: Pivot Switchblade (medium) Fork: Fox 36 Factory Grip2, 160mm, 44mm offset, fender included. Shock: Fox Factory DPX2, trunnion, 3-pos, Pivot's custom tune. Dropper: Fox Factory 175mm Transfer with Fox's bar remote. Seat: WTB Volt(?) Stem: Pivot 45mm Bar: One Up Carbon 35mm rise, 35mm dia. Cut to 760mm. Grips: Used ODI Elite Pro or New Lizard skins, whichever you'd prefer. Brakes: Shimano XT 4-Pistons, Saintcmetallic pads, 203mm rotors front and rear Shifter: Shimano XT 12spd Derailleur: Shimano XTR 12spd Cassette: Shimano XT 12spd 10-51T Crankset: Race Face Aeffect R, 170mm, 32t Chain: Shimano XT 12spd Wheels: DT Swiss Spline M1700, 36t Ratchet Tires: Maxxis DHF/Dissector, EXO+, 2.5/2.4 WT Terra.

Jul 24, 2022 at 19:04
Jul 24, 2022

Selling
Jul 24, 2022 at 18:57
Jul 24, 2022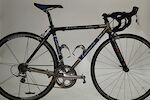 $1200 USD
Hello All! I am helping my neighbor sell her very special 2004 Lemond Tete de Course! She is the original owner and raced this bike professionally in the early 2000's. It's simply a work of art. The Tete de Course was Lemond's top of the line race bike at the time and handmade in America. It's built with titanium from the head tube to the rear dropouts and carbon fiber from the top tube through the seat tube and seat stay. It was known as a "spine" frame, which was never widely adopted my manufacturers but combined the smooth ride of titanium with the light weight of carbon fiber. It uses Trek's OCLV 110 carbon fiber, which was state of the art for the time and butted 3Al/2.5v titanium from Reynolds. It's a truly beautiful and special ride that you will often not see on the roads. The frame is a 49cm, but feels larger than a typical 49cm. Lemond's bikes featured a slacker seat tube angle and longer top tube which results in a reach more similar to a 50-52cm frame. I dug up the tech manual for this frame which includes geometry at the link below. Generally, if you're near 5'1"-5'7" this bike should fit well. The frame is built up with a Cane Creek headset, Bontrager Race XXX Lite OCLV 110 carbon fiber fork, and full Dura Ace 7800 including pedals. Other parts include a mix-matched wheelset with a Mavic CXP22 front wheel and a Shimano WH-R535 rear wheel, Profile Design stem, a Ritchey Pro seatpost topped with a Fizik Vitesse saddle and retro Elite water bottle cages. This frame has a special paint job which alludes to its racing heritage. There is an extra "Lemond" on the top tube as well as on the lower fork legs and sponsor logos that were not painted on typical Tete de Course frames. A "Quark" logo is found where the "Tete de Course" would normally be and a Quark logo is also found behind the seat tube/seat stay junction as well as on the fork. A Bontrager logo is found on the chainstay, and two Mavic stickers on the seat stays. The bike is in great condition overall. Some scratches and marks from normal use but all the welds are in great shape and there are no significant marks on the carbon that would give me pause. MSRP was $5,500 in 2004 and she is looking for $1200 right now. Please let me know if you have any questions at all or if you'd like more photos! Tech Manual, see page 1: https://www.vintage-trek.com/Trek-Fisher-Klein-Lemond/2004specmanualLemond.pdf

Oct 14, 2021 at 15:58
Oct 14, 2021

Sep 7, 2021 at 7:37
Sep 7, 2021

Selling
Sep 7, 2021 at 7:25
Sep 7, 2021

Sep 5, 2020 at 14:14
Sep 5, 2020

Selling
Sep 5, 2020 at 14:12
Sep 5, 2020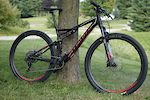 $1800 USD
I am ready to sell my XC bike! It is a 2015 Specialized Epic Elite M5 World Cup. It's been ridden and cared for but shows signs of normal use. There are some scratches on the frame and normal cosmetic wear and tear. This bike is almost the stock build including carbon Roval wheels, SRAM X1, Magura brakes, etc. The saddle has been changed to a Fabric Scoop, and the tires have been changed to a Maxxis Icon in the front and Specialized Renegade in the rear. Here is a link to the Specialized page with stock specifications/geometry/etc: https://www.specialized.com/us/en/epic-elite-m5-world-cup/p/95624?color=&searchText=90315-4402 Everything on this bike is in good working order including the Brain system! The bike has 95mm rear travel and pedals really well. Is best suited to XC use and would be an awesome bike for someone who is getting into racing or wants a fast bike that won't break the bank. Let me know if you have any questions, but please no low ball offers. Thanks!

Selling
May 15, 2020 at 18:03
May 15, 2020
Load more...