crustin
Member since Aug 3, 2016

O+
Male / 43
Hastings On Hudson , New York
Block user
Recent

Jan 30, 2023 at 11:55
Jan 30, 2023

Selling
Jan 10, 2023 at 19:35
Jan 10, 2023
$60 USD
Ridden a bit with some scuffs and scratches, but perfectly functional. I can include the little-used 32t chainring for $20. Venmo (preferred) or paypal or pickup at a trailhead near NYC.

Selling
Jan 3, 2023 at 16:05
Jan 3, 2023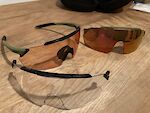 $55 USD
I've worn these for about a year, mostly with the clear lens. The mirrored lens hasn't been used at all. The clear one has some little scratches and the rose lens has a nick. I don't notice them when I'm wearing them, though. They come with the Smith padded case that holds the glasses and a spare lens, and there's a case for the third lens. Pick up or meet at a trailhead in the NYC area, or I can ship for $5.

Selling
Dec 31, 2022 at 12:19
Dec 31, 2022
$275 USD
I've had this bike for 15 years. It's been well-maintained and very reliable. Pretty much just used for doing errands. I'm 6-4 and it's a little on the small side for me, so if you 6 ft to 6-3 it's probably great. I replaced the rear tire recently and have a new one for the front that I haven't put on yet, but it will be included.

Selling
Dec 30, 2022 at 13:15
Dec 30, 2022

Selling
Dec 30, 2022 at 13:15
Dec 30, 2022

Selling
Dec 30, 2022 at 12:53
Dec 30, 2022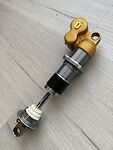 $675 USD
This came on my Claymore frame and just got ridden a couple times before switching it out. It rides great, I just decided to stick with Rockshox stuff, which I'm used to. The stroke is set at 60mm right now, but it can be adjusted to 57.5, 62.5, or 65mm with the included spacers. Springs that can be included for an additional cost: Canecreek Valt progressive: 500-610 Nukeproof super light: 450 and 475 Sprindex: 500-550 Venmo (preferred) or Paypal. Free shipping. https://www.vitalmtb.com/product/guide/rear-shocks/ohlins/ttx22m-2-28416#comment-282426
Load more...