davidg86
Member since Sep 3, 2010

Gaithersburg , Maryland
Block user
Recent

Jun 8, 2022 at 5:13
Jun 8, 2022

Jun 2, 2022 at 6:59
Jun 2, 2022

Selling
Jun 2, 2022 at 6:57
Jun 2, 2022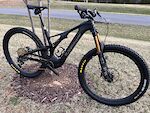 $1 USD
This is a medium 2020 Levo SL with 499 miles. It's pretty fresh with normal riding blemishes. This is the original "light" spec Specialized introduced the SL with. If you want the absolute lightest and most natural feeling ebike available this is the one for you! Trying to avoid it but willing to ship. Thanks for looking

Selling
Jun 2, 2022 at 6:53
Jun 2, 2022

Mar 24, 2022 at 9:11
Mar 24, 2022

Selling
Mar 24, 2022 at 9:08
Mar 24, 2022

Mar 10, 2022 at 19:35
Mar 10, 2022

Selling
Mar 10, 2022 at 19:34
Mar 10, 2022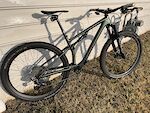 $8900 USD
This is a medium Specialized 2021 Epic Evo Sworks with about 550 miles of use. Normal wear and tear scratches. If it sells I'll be switching the saddle/bar/stem back to stock. I'm just leaving them on for now incase I get the itch to keep this one. I have the stock tires as well. I'm the original owner with receipt.

Sep 21, 2021 at 17:25
Sep 21, 2021

Sep 14, 2021 at 11:39
Sep 14, 2021
Load more...