gdharries
Member since Jul 8, 2014

Male / 48
Whitehorse , Yukon
Block user
Recent

Selling
Oct 2, 2022 at 9:08
Oct 2, 2022

Selling
Oct 2, 2022 at 8:40
Oct 2, 2022

Selling
Sep 27, 2022 at 8:51
Sep 27, 2022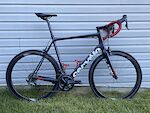 $2200 CAD
2018 Cervélo R3, 61 cm. Navy blue and red carbon fiber frame, fork and seatpost. Shimano Ultegra 11-speed drivetrain. I bought the bike new in spring 2018 and have upgraded some key parts including: - Giant SLR 1 42 carbon wheelset - New this summer, Bontrager R3 Hard-Case Lite TLR tires, 28 mm. Set up tubeless - New this summer, Shimano Ultegra cassette and chain - Lizard Skins DSP bar tape, 3.2 mm - Ergon SR Comp saddle - Tacx Deva bottle cages Frame wrapped since purchase: Top tube, down tube, stays and rub areas. Never crashed. Babied its whole life. To buy a comparable bike new is about $6,000. Ideal for someone 6'2" or taller. Total weight of 17 lbs.

Selling
Sep 27, 2022 at 8:46
Sep 27, 2022

Selling
Sep 24, 2022 at 17:34
Sep 24, 2022

Selling
Sep 24, 2022 at 17:30
Sep 24, 2022

Aug 15, 2022 at 22:58
Aug 15, 2022
5 Race Bikes from the 2022 Leadville 100
@powturn: I get that road cleats and shoes aren't ideal for hiking or running off the bike during a race, but they're also very stiff and thus have fantastic power transfer with a bigger but still light platform. If it's not an overly technical course, why use mountain bike shoes and pedals if only for the street cred? How often do you see top level racers off the bike anyway? Not much these days. I say all the more power to Keegan. Do what it legally takes to give yourself an advantage.

Jul 30, 2022 at 4:38
Jul 30, 2022
Bike Check: Evie Richards' Trek Supercaliber
RULE 26 // Make your bike photogenic. When photographing your bike, gussy her up properly for the camera. Some parameters are firm: valve stems at 6 o'clock. Cranks never at 90 or 180 degrees. Others are at your discretion, though the accepted practices include putting the chain on the big dog, and no bidons in the cages.

Jul 13, 2022 at 12:47
Jul 13, 2022
First Look: 2023 Niner RKT 9 RDO - XC Race Ready
Yes. In the old days, we'd scoot farther forward on the saddle (right on the nose tip where it hurt most) and push down on 600mm handlebars to keep the 26" front wheel weighted, and pray/hope/wince as the bike wound its way up the hill. If the rear wheel let loose, we'd move back again, then repeat the forward motion. I believe the official term for this technique is "monkey humping a football".

Selling
Jun 21, 2022 at 16:36
Jun 21, 2022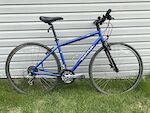 $250 CAD
The original e-bike (as in, it uses your own energy to turn the wheels). Aluminum frame, 8-speed drivetrain, fast rolling 26" tires and all the reflectors. 52cm frame is ideal for someone around 5'2" to 5'7". Buy this bike and stop paying for expensive gas to drive your car.
Load more...