gdharries
Member since Jul 8, 2014

Male / 46
Whitehorse , Yukon
Block user
Recent

Selling
May 31, 2020 at 7:39
19 hours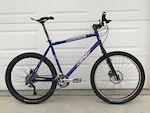 $500 CAD
This is a special bike that can be used for commuting or mountain biking. It's solid, dependable and totally sweet, ideal for someone about 6' tall in its XL size. The frame was welded in Surrey, BC and is made of Columbus Nivacrom butted steel. I bought the frame in mint condition and built it up with many period-specific parts, including: - Hayes Mag disc brakes and rotors - Razor Rock Racing after-market brake levers - Dark Cycles bash ring (complete with machined flames) - Chris King headset - Sun Rhyno Lite front wheel with Hayes DT Hugi hub - Sun Rhyno Lite rear wheel with Shimano XT hub - Shimano XTR 9-speed rear derailleur with carbon hanger - Shimano XTR 9-speed front derailleur - Shimano XTR shifters - Shimano XT cranks - Shimano XT bottom bracket - SRAM 9-speed rear cassette - SRAM 9-speed chain The bike also features: - Surly rigid fork - Specialized 26" x 2.2" Compound Control tires (folding) - Chromag Dolomite seatpost - Chromag Lynx DT saddle - ODI Rogue lock-on grips - Truvativ stem and handlebar - New brake pads, seals and front disc rotor this spring I'm selling because I'm too tall for it. Also, I need to thin the herd.

May 27, 2020 at 11:36
May 27, 2020

May 27, 2020 at 11:34
May 27, 2020

May 26, 2020 at 14:37
May 26, 2020

Selling
May 26, 2020 at 14:36
May 26, 2020

May 25, 2020 at 15:08
May 25, 2020

May 23, 2020 at 10:25
May 23, 2020

May 22, 2020 at 17:18
May 22, 2020

May 22, 2020 at 15:03
May 22, 2020
Pinkbike Poll: If You Had to Ride One Bike for the Rest of Your Life, What Would It Be?
@tacklingdummy: I definitely notice this as I get older (I'm now 46). I only have and ride a Kona Explosif hardtail and while it's pretty easy for me to stand up and absorb most bumps with my legs and arms, it's my ankles and wrists that feel the impact on rougher trails. Whenever I borrow a full-suspension bike to use at our ski resort trails, I notice how much less beat-up I get in these two areas of my body. Ah, aging.

May 21, 2020 at 19:36
May 21, 2020
Interview: Trek's Travis Brown On Experimenting With 32" & 36" Wheels
@dfiler: The UCI also stifles innovation and experimentation https://www.uci.org/inside-uci/constitutions-regulations/equipment which sure doesn't help. Mountain biking was born from those desiring to innovate and experiment, as you know. Road cycling has been around so long that the traditions are deeply embedded.
Load more...