grand69
Member since Jul 29, 2014

Male / 51
Austin , Texas
Block user
Recent

Sep 2, 2020 at 13:09
Sep 2, 2020
Cane Creek Announces the DB Kitsuma Shock
@Draaz34: Yeah, I see that but a couple of things When I'm tuning on the trail I don't go all the way in and count clicks out... I add or subtract a click or 2 from the suspect adjuster and keep riding, judge if it's better or worse.. repeat cycle until I'm happy with the performance. Then I will count clicks/record settings back in the garage so I can revert back to a known good setup if needed. Seems the same would be true with the Kitsuma. Having to do this with a tool does a couple of things for me. First, it makes me think twice about making adjustments and what/how I want to adjust because it's a process to get the tool out, etc. Second, once dialed my settings are secure and aren't going to get accidentally changed by bumping/crashing. Having a visual on the setting I guess is cool, but I don't see the practical application. Does it really matter if your LSR is at 4:00 on the dial if it if working well? Now what would have been cool to make this highly adjustable shock less intimidating is a software app that can take inputs (bike model, leverage ratio, rider weight, front sag, riding style, etc) and calculate a custom tune for you like Vorsprung Tractive Tune does with their software... then walks you through fine tuning kind of like the old CCDB app does. That would have really set this new platform apart.

Sep 2, 2020 at 9:53
Sep 2, 2020
Cane Creek Announces the DB Kitsuma Shock
Announcer: How would YOU like to be able to adjust your shock without the use of painful and dangerous TOOLS!? Me: (severs finger with hex key trying to adjust Fox X2 shock)... awww man! Tell me more! Ok.. so it looks like the intuitive and easy to tune aspect is solely related to the tool-free dials with lines on them. LOL. Looks like a great shock, but that's kind of silly as the main marketing point.

Aug 28, 2020 at 6:07
Aug 28, 2020
First Look: Fox's New Transfer Dropper Post - Pond Beaver 2020
@thatpeskylimey: I've had the Transfer and the OneUp V2 and used both with the 9point8 digit "long" lever (same as Wolftooth LA) Transfer: Lighter, smoother action lever action BUT much longer throw. Slower/fixed return speed. Very sensitive to clamp torque. Smoother. More "reliable" in the time I used it. Never serviced it. Oneup: Stiffer action but a nice short throw. Quicker return speed and slightly adjustable with psi. A little rougher feel through the travel. I haven't found the throw-away cartridges very reliable - I've replaced the cart. twice in 11 months... BUT OneUp customer service could not be any better. VERY easy to service/replace carts. I prefer the OneUp because of it's shorter lever throw and quicker return speed. I can live with the rougher, less refined feel but they need to get the cartridge reliability under control.. I don't really trust it and am considering purchasing a spare.. or just putting that money toward a fully rebuildable post.

Selling
Aug 23, 2020 at 10:55
Aug 23, 2020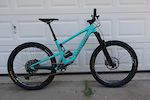 $3500 USD
2019 Santa Cruz Bronson C - Medium This bike is in fantastic condition and has been covered in protective tape since new. There are very few actual blemishes on the frame itself but there are a few nicks in the tape here and there. Dirt has also started to get under the tape in a few places. I've done my best to show this in the pictures. All pictures are the bike as of the posting of this ad and the bike is no longer being ridden. Fork: Rockshox Lyrik RCT3 DebonAir - 160mm Shock: Rockshox Super Deluxe R w/ stock air can. I AM ALSO INCLUDING A BARELY USED MEGNEG UPGRADE KIT FOR THE SHOCK!! Rear Derailleur: SRAM GX Eagle 12sp Shifter: SRAM GX Eagle 12sp Crankset: Shimano SLX 175mm w/ Shimano BB and OneUp 32T Chainring Cassette: SRAM Eagle XG-1275 Chain: SRAM GX Brakes: NEW Formula Cura Set Rotors: NEW Formula 203mm/180mm Headset: Cane Creek Bars: Santa Cruz Carbon Riser 35mm - 800mm wide Stem: Easton Haven 35 - 50mm (if you need a different length I may have something to swap in) Grips: Santa Cruz Wheelset: DT Swiss M1900 30mm (rear wheel has a ding but rides fine) Front Tire: Maxxis Assegai 2.5WT Exo Rear Tire: Maxxis Aggressor 2.5WT Exo Seatpost: Fox Transfer 150mm w/ Crank Brothers lever Saddle: Deity - Titanium Rail 3500.00 SHIPPED in the lower 48 - PayPal Only

Selling
Aug 23, 2020 at 9:42
Aug 23, 2020

Jul 1, 2020 at 13:39
Jul 1, 2020

Selling
Jul 1, 2020 at 13:38
Jul 1, 2020
$580 USD
This is a Mezzer with 5 rides on it originally. I sent it in for a minor warranty issue with the bottom out bumpers and they sent it back with brand new lowers and damper! Hasn't been ridden since. It was ordered as a 170mm travel fork but can be adjusted between 140-180mm with included spacers. Offset is 44mm and steerer is cut to 193mm (7.6") and has CC crown race installed Comes with travel spacers and unused factory fender w/ mounting screws 600.00 shipped to lower 48 Paypal only

Jul 1, 2020 at 13:24
Jul 1, 2020

Selling
Jul 1, 2020 at 13:23
Jul 1, 2020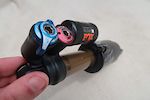 $450 USD
This is a like new Float Factory X2 with very low miles. I purchased it to convert my Guerrilla Gravity Shred Dogg to a Megatrail and ended up liking it better with the original shock for my local trails. Tune Code is DHF5 2019, FLOAT X2, F-S, K, 2pos-Adj, FOX, AM, 230, 65, 0.3 Spacer x1, CM, Orange, Gray Logo Has hardware installed: 8x25 , 8x40 450 shipped to lower 48 Paypal only
Load more...