hankj
Member since May 2, 2017

Seattle , Washington
Not a dentist
Block user
Recent

Dec 14, 2020 at 12:03
Dec 14, 2020

Dec 1, 2020 at 16:04
Dec 1, 2020

Selling
Nov 12, 2020 at 16:26
Nov 12, 2020

Selling
Nov 12, 2020 at 16:25
Nov 12, 2020

Selling
Nov 12, 2020 at 16:05
Nov 12, 2020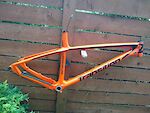 $679 USD
XL 2018 Tranistion Carbon Hardtail Boost, 29er, Threaded Bottom Bracket Shell Excellent condition. Taped frame with 4 touched up tiny paint chips. No damage to carbon at all. Rides like day 1 and looks great doing it. Please see link for geometry. Note that geo is with 120mm fork. I rode this bike with 120mm, 130mm, and 140mm. All really fun. With the longer fork it rode rowdy, good at going straight over technical sections. Light, stiff, fast bike with short chain stays, so carvey and responsive. Sizing is keyed to length - my 6'0 buddy long-limbed liked to ride it, and I'm 6'3 and it fit fine. https://www.vitalmtb.com/product/guide/Bikes,3/Transition/Vanquish-GX,21643 https://www.pinkbike.com/news/transition-introduces-two-brand-new-bikes.html In a few words, it rides like a Porsche Cayenne drives, like a sports car but over chunky terrain. Longish and low slung, but reasonable stack so quite comfortable and composed. It rides as well as you'd expect a small production run frame from Transition Bikes in Bellingham Washington to ride. It rides like the ripping MTBer's at that shop wanted hardtails to tear around Galbraith in the wet season. Includes FSA headset; seat tube collar; drop out; axle; and good quality, internally run derailleur and seat post housings. Price firm at $679 - more than $1k less than the $1699 MSRP in 2018. I'll ship to USA at your expense, won't charge you packing etc, just the cost of bikeflights.com shipping. Probably $30-50 depending on how far away you are. Thanks for looking!

Nov 6, 2020 at 10:42
Nov 6, 2020

Selling
Nov 6, 2020 at 10:37
Nov 6, 2020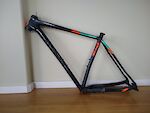 $425 USD
2017 Scott Scale 710 Plus Frame for sale. Boost rear axle spacing. Runs 27.5 or 29er. I don't know tire width limits, but I've fit 27.5x3.0 and 29x2.6 no problem. Rides great w/ narrower tires too. Bottom bracket, headset, seat collar clamp, and rear axle included. Frame is in very good condition. Just some reasonable cosmetic scratching here and there. Worst scratch is pictured. Same frame as in this review of the 2016 model, except this 2017 has a 1 degree slacker head tube angle - 66.5 degrees, which is really the sweet spot for a versatile hardtail. https://www.bikeradar.com/reviews/bikes/mountain-bikes/scott-scale-710-plus-review/ Things I really like about this frame: *It is quite forgiving in the rear end for an aluminum frame. Scott nailed the s-curving seat stay design so as to give compliance and vibration dampening while making room for big tires. I've been on modern steel hard tails that were less plush in the back. *It pedals fast - efficient energy transfer, based off Scott racing bikes, and lighter frame than most other slack hardtails *At 66.5 degree HTA it is slack enough to mob down rough terrain like a rowdy hardtail, but isn't piggy on the climbs. *It is a versatile bike. I took it on a two week Canadian riding trip that involved bike packing beat up gravel fire roads (it carries bags/rides loaded like a champ!), MTBing black diamond trails, and long urban explores/bar rides in Vancouver. I wasn't wanting in any of those venues. It's competent on steep roots but also comfortable and not a slug on 50 mile fire road rides. This was an expensive bike at MSRP, around $3k in 2017 for a GX build, truthfully overpriced. This used frame represents a very solid value.
Load more...