i-ride-on-dirt
Member since Jul 12, 2008

Male / 24
Victoria , British Columbia
Block user
Recent

Dec 17, 2019 at 13:04
Dec 17, 2019

Dec 16, 2019 at 15:39
Dec 16, 2019

Selling
Dec 16, 2019 at 15:35
Dec 16, 2019

Dec 15, 2019 at 15:16
Dec 15, 2019

Selling
Dec 15, 2019 at 15:14
Dec 15, 2019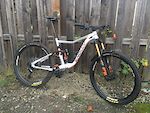 $5000 CAD
Hey there, Up for grabs is my nearly brand new Knolly Fugitive LT. This beast was purchased brand new September 2020, and has seen less than 50hours of riding total! I had some funny warranty issues with another brand that shall remane nameless and as a result I ended up on a brand new Knolly this September. The bike doesn't fit me particularly well so I am looking to sell it for someting else. I have now updated the photos, so what you see is what you get, it won't be ridden again. However, the following are not included: -Fender -Pedals -Chainguide w/ bashguard (would sell for an extra $50) -EDC Tool -Tire plug kit -Rear tire (I am going to swap it out before sale since it's a little roached, I have a DD Assegai I'll put on instead) -CushCore Parts: 2020 Knolly Fugitive LT Frame, Raw, XL 2020 Fox Factory 36 with GRIP2 damper (160mm) 2020 Fox Factory Float X2 (with HSC, LSC, HSR, LSR) 2020 Shimano XT 4piston brakes. 220mm front rotor, 200mm rear ONEUP Carbon bar, and stem. X01/GX Eagle 12speed Drivetrain Race Face Turbine Cranks (pedals not included) Fox Transfer 175mm Post with ONEUP lever Maxxis Assegai tires. DD rear, EXO+ front Spank Oozy Trail 345 32h J-bend Wheelset Cane Creek 40series headset Ergon Saddle If you have any other questions please text or call. I'll try to respond on here but I don't check it very frequently. Cheers, John

Nov 15, 2019 at 13:47
Nov 15, 2019

Nov 15, 2019 at 8:08
Nov 15, 2019

Nov 15, 2019 at 8:03
Nov 15, 2019
Pinkbike Poll: The Great Chainstay Debate - What's Your Preferred Length?
As a person who rides an XL, I think this is possibly the most important piece of geometry to be considered on modern bikes. I don't normally comment here but I would really like companies to hear this. Let me start by saying I've owned 4 modern aggressive 29ers and ridden at least a dozen. With chainstays ranging from 430.5mm to 446mm all with a reach from 500-515mm. I also ride 400hours a year and am what you may call a local fast guy, though far from being professional. The single best way to make an otherwise great (extra large) bike awful is to give it a short chainstay (435). Having this sort of a chainstay does not make it turn fast, the only thing it does is make it break traction quickly. Because the rear end is so short, your weight is always hovering right around the rear axle. This means you cant properly weight the front tire, and as a result: 1. Front feels drifts unpredictably. 2. When riding steep sections the front tire doesn't bite, you can't slow down effectively. 3. When you want to hit a turn and not break traction, your weight often shifts backwards under compression and you get the 'loop out' feeling. That makes you panic break and standup in the turn, if you haven't crashed by now. 4. Tall riders also have high seatposts, therefore when pedalling they're extremely close if not over the rear axle. Factor in dynamic geometry and climbing a steep pitch and it takes immense amounts of effort to keep the front wheel from wandering, and you from looping out. (I'm also a firm believer in steeper seat angles for larger bikes). The point: the best cornering modern aggressive 29er I've ever ridden, was also the fastest in a straight line, the most controlled when riding steeps, and the most comfortable to climb tech pitches with, also had a 446mm chainstay. PROPORTIONAL SIZED CHAINSTAYS are the absolute best and I wish every company adopted them. Thank you for listening to my rant.

Sep 13, 2019 at 8:22
Sep 13, 2019
Scott Genius 920 - Review
@Jrayyo: you can with the normal twinlock setup. However, you need a different lever (the stock twinlock lever integrates with the stock synchros grips.

Jun 30, 2019 at 10:47
Jun 30, 2019
Load more...