idriveme
Member since Mar 30, 2010

Male / 53
Portland , Maine
Block user
Recent

Dec 10, 2021 at 17:59
Dec 10, 2021

Mar 21, 2021 at 5:53
Mar 21, 2021
Pinkbike Poll: How Long Do You Keep Your Bike?
I keep my old bike, I either hold onto it so my kids can ride, or keep it as a back up for when my daily is down for service. Also nice to have multiple purpose specific bike set ups when I add to the quiver it is to fill a gap.

Jul 11, 2020 at 18:23
Jul 11, 2020
Banshee Phantom - Review
I have a Phantom, it really rips! It is so tight and responsive, yet I was surprised how plush it is off the top. It pedals awesome, corners on rails. Might be the perfect trail bike!

May 20, 2017 at 11:13
May 20, 2017

May 12, 2017 at 8:19
May 12, 2017

Selling
May 12, 2017 at 8:17
May 12, 2017

May 16, 2016 at 20:22
May 16, 2016
BMC Speedfox 02 Trailcrew - Review
Yes kids old guys can still rip it up! Nice to see BCM come out with a 27.5 trial machine. My son has a BCM Superstroke 150-165 APS. The thring is a beast, a bit too heavy to be a KOM killer on most trails but it is super versatile. He uses it for trail and lift service light DH stuff. BMC build great bikes, well known for road and tri bikes. I also had a DW bike, while it was much less travel and a light bike, the APS is close super plush. I woulds very much consider this as my next ride.

Jun 15, 2015 at 19:43
Jun 15, 2015

Selling
Jun 15, 2015 at 19:04
Jun 15, 2015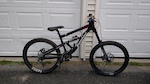 $1100 USD
Very solid bike, Banshee builds bikes that last! Codes, 888, double wide rear rim Ringle hub , decent tires. Ready to ride. Free local pick up, meet part way if in new England. I will pack it for shipping.

Nov 29, 2014 at 4:33
Nov 29, 2014
Load more...