jamsavage
Member since Aug 8, 2005

Male / 31
Swansea , United Kingdom
Love to ride DH, hopefully get down to some racing this year!
Block user
Recent

Nov 30, 2014 at 3:13
Nov 30, 2014

Selling
Nov 19, 2014 at 6:47
Nov 19, 2014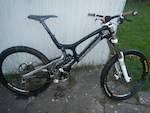 $1600 GBP
IF IT DOESN'T SELL THIS MONTH I'M GONE TRAVELLING, IN WHICH CASE I'LL KEEP IT. Hi all this is my large V10c up for sale, it's in excellent condition with no chips or dents to any of the frame. There are usual downhill associated marks on the bike, but nothing significant as most of the frame is Helitaped. This bike does EVERYTHING FAST! It jumps well and rides incredibly you can swap it from 10 inches to 8.5 inches at the rear which makes it a lot more playful. The reason it's for sale is I am off travelling in the summer. Spec: Frame: V10 Carbon Large Shock: FOX RC4 Kashima Fork: Boxxer RC2C Brakes: Avid Elixir 3 Wheels: DT Swiss FR600 Cranks: Truvativ Descendant Chain Guide E13 LG1 Mech: Shimano Sain Clutch Mech Short. Stem: Kore direct mount Bars: Kore Flat Seat: WTB Silverado Seatpost: Thompson Headset: Cane Creek Angleset No Pedals will be included. This is Pinkbikes review on it: http://www.pinkbike.com/news/Santa-Cruz-Carbon-V10-review-2011.html If you have any worry about carbon this will stop your worry: https://www.youtube.com/watch?v=xreZdUBqpJs If you have any questions hit me up on here, or call me on 07806268296. Thanks, James

Feb 1, 2014 at 9:10
Feb 1, 2014

Oct 29, 2013 at 14:47
Oct 29, 2013

Selling
Oct 22, 2013 at 15:30
Oct 22, 2013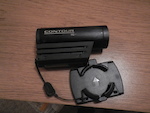 $85 GBP
Hi guys, Contour Roam HD for sale, I don't really ride a great deal of downhill anymore, my current main hobby is XC and rock-climbing. So the camera is a bit surplus to my requirements and I need to fund an ice climbing trip. It will come with the goggle mount and charging lead. I don't have the packaging I'm afraid. If you want any more info feel free to contact me. Will upload photos later, the camera is like new. Thanks, James

Selling
Sep 12, 2013 at 0:47
Sep 12, 2013

Selling
Aug 31, 2013 at 11:41
Aug 31, 2013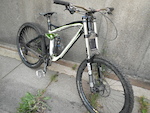 $1250 GBP
Hi Guys, Selling a One Ghost Musashi as I am off to India. It's a fantastic fun and poppy bike, rails corners and feels very quick over the rough stuff. It's a used downhill bike so will have the usual scratches and rub marks, the stanchions are clean and there and no dents on it whatsoever. Spec: Frame: One Ghost Musashi Large Shock: Fox RC4 Kashima Forks: Rock Shox Boxxer RC2C Brakes: Shimano XTR With ice-tech rotors Wheels: Mavic 721 on Hope pro 2 Cranks: Shimano Saint Chain guide: E13-LG1 Bars: Renthal Fat Bars Stem: Hope DH Shifter: Shimano Saint Derailleur: Saint short cage Any more questions get in touch on here or on my mobile no. Thanks, James

Selling
Jul 15, 2013 at 14:54
Jul 15, 2013
$800 GBP
Santa Cruz Blur 4X Large size, bike is in good condition but has been used in all weather so dirt marking on top tube and a crack in the top runner of the chain guide. There are no dents or dings. It's a fantastic XC, AM and DJ bike, you can even hit up some DH trails with it. It really is quite a do it all bike: http://dirt.mpora.com/features/hammered/hammered-santa-cruz-blur-4x-frame.html Just read what people have to say about them. This bike is tough, light, agile and FAST! Spec: Frame: Santa Cruz Blur 4x Large Shock: FOX RP23 Forks: Rockshox Pike 454 Wheels: Hope Pro 2 on DT SWISS 5.1D Cranks: Shimano XT with E-Thriteen chainring Chainguide: MRP G2 Derailleur: Shimano XT Brakes: Formula ORO Greg Minnar Ltd Edition Bars: Easton Monkeylight Stem: Thompson Seat: Charge Spoon Seatpost: Easton It's a good bike, the rear shock bushing could do with a change as there is slight play. I am willing to split for the frame, make me an offer. Pedals not included. Thanks for looking, Please contact me with any questions. Thanks James

Jun 12, 2013 at 2:45
Jun 12, 2013

Apr 24, 2013 at 6:26
Apr 24, 2013
Load more...