jerryhazard
Member since Feb 9, 2009

Male / 54
Albuquerque , New Mexico
Recently relocated to ABQ...
Block user
Recent

Jan 10, 2021 at 1:53
Jan 10, 2021

Jan 10, 2021 at 1:53
Jan 10, 2021
Video: Urban Freeride in Spain with Plenty of Stair Gaps
Great rider and great moves - I cannot do any of it. Well, maybe I can eke out a pedal grind, or gap a medium set. But it seems overkill to use a DJ bike for this. 20" bikes are doing twice as high all day long on about every move in here. Don't understand the no brake thing on a DJ either - no bar spins or tailwhips... Actually don't get the DJ thing at all to be honest. Different strokes I guess. It's a good edit, nicely put together. I'm not crazy about the music. And four years, imho, is too long to spend on an edit for one rider unless its an evolution piece (which this didn't seem to be). The riding world is advancing pretty fast, that's not a way to keep up.

Oct 27, 2020 at 16:40
Oct 27, 2020

Selling
Oct 27, 2020 at 16:40
Oct 27, 2020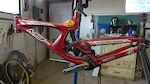 $350 USD
Used intense M9. Used condition. Frame has been ridden, but survives. Not pretty, but cleans up well. Lots of scratches and a dent or two, No cracks, everything works. Adjustable dropouts. Comes with saint cranks and bb (pretty used, but work) Includes Cane Creek 40 headset, but you'll need the crown race for your fork. Comes with Seat clamp, i-beam seat post and seat included Includes Rock Shox Kage RC. Not the best shock, but it will get you on the trail. Will post more photo soon as the weather passes and I can wash it down. This item is "as-is", with no implied warranty and no returns. $350 + $100 shipping.

Oct 7, 2020 at 23:29
Oct 7, 2020

Selling
Oct 7, 2020 at 23:28
Oct 7, 2020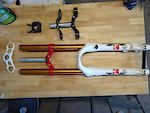 $250 USD
Marzocchi 888 RC3 EVO V.2 in OK used condition. This is for 26" wheels. You maybe be able to fit a 27.5 in there, but I cannot confirm. Fork has clean/clear lower stanchions. Upper stanchions have some rub marks. Lowers have rub marks on the arch (from zip tied cable), and a decent scrape on the right lower, none affect performance. Cable guide is a little chewed and missing one bolt, still retains cable securely. Comes with extra black crown (but steer tube is cut to 5.7 inches). Installed steer tube is 6.7 inches. Seals are decent, but fork could use a rebuild as it's been over year since its last. Fork did not leak during my ownership. All adjustments work, all dials present. There is one mis-matched bolt that secures the axles, I think it takes a 5mm allen key, while the other 3 take a 4mm. It still secures flush like the others. Will include direct mount stem. Continental USA only, please. Paypal only. Payment due at end of auction. If payment is not received within 24 hours of auction close, item will be relisted. Item will ship within 2 days of auction close. Will ship via UPS with tracking provided when dropped off (plesae, no PO box addresses)

May 2, 2020 at 16:57
May 2, 2020

Climb to rock bottom
14.5 km - 01:22 - 1 achievements
Load more...